Cold play: Rolf Sachs conjures an alpine adventure in a Swiss chalet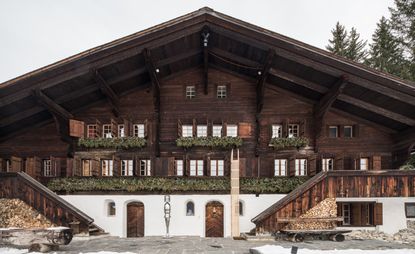 (Image credit: Jon Etter)
An ash wood sled stands sentinel outside of a traditional Swiss chalet, looming comically over the front door at four metres tall. It seems poised for the slopes – surely the home's inhabitants are having a laugh?

In fact, it's an artwork by the Swiss artist Rolf Sachs, heralding his exhibition at the Vieux Chalet in Gstaad, Switzerland. Presented in collaboration with Hauser & Wirth, the show explores alpine culture through a series of sculpture, portraiture, and site-specific installations. For the Lausanne-born, London-based artist, 'Alpine culture comes with a certain ease,' he says.

Sachs' Rasté (2012) – a handsome rake, hand-carved from slate – is the first to greet visitors in the foyer. Framed through an archway behind, an ice pick defiantly pierces a piece of thick felt – the absurdist juxtaposition here is crucial to Sachs' visual language.

The chalet is lavishly decorated and finding Sachs' work amongst the trove of mountain-kitsch furnishings becomes a delightful game in itself. So much so, a guest placed his hat on a €20,000 artwork on the opening night, mistaking it for a coat hook.

But it's all very much in the spirit of the work, and Sachs' chameleonic pieces live as comfortably in the home as the furniture. 'That is the point,' he says. 'For instance, the rake could have been a real one from 100 years ago. It was an essential tool for the valley and might have hung [in the foyer] for all we know. On top of that I like the aesthetics, I made it in stone to give it a sculptural value.'

In the living room, Alberto Giacometti's sculptural works flank Sachs' powerful site-specific intervention Rocks (2016) – a harmonious, wall-hung arrangement of stones handpicked by the artist from the local mountain region. 'The stones have an incredibly strong presence. It boils down the creative process to the bare minimum' explains the artist of the work, adding, 'Nature is the most beautiful sculpture.'

Hanging next to an imposing stone fireplace nearby: a pair of small silhouette portraits, one of Sachs, the other of his late father. It's an especially revealing piece: Vieux Chalet once belonged to Sachs' father, Gunter Sachs, a renowned photographer, industrialist, author and avid art collector. Here, local artist Beatrice Straubhaar was commissioned by Sachs to create a modern rendition of Scherenschnitt (or scissor-cut), a traditional craft in Germany and Switzerland popular during the 19th century and Goethe era.

Elsewhere, Sachs continues this tribute to local Swiss craft and agricultural iconography. He pays homage to Brancusi's Endless Column with a stack of Motteli (wooden food vessels) produced using an old Swiss wood working method; gets spiritual in Bet(t)ruf (2016), creating a sculpture from the milk funnels (Folle) used to call prayers in the evening; and illuminates a room with a starry effect, using a perforated milk churn and bucket.

Sachs is often described as an artist/designer, but it's a label that belies him. Certainly, many of the works are flawless specimens of craftsmanship. But in the end, design is simply his artistic medium of choice.

The exhibition is scattered throughout the labyrinthine chalet, forming a dialogue with both his father's home and works by Hauser & Wirth artists. A mezzanine overlooking the living room houses Hay Fling (2016), capturing a handful of hay frozen joyfully in mid-air. The view from the mezzanine also reveals a subtle video installation embedded in the window frame – a soothing snowfall ­that can be seen from inside and outside – which Sachs describes as 'very spiritual'.

In the evening, the chalet is lit up outside by a site-specific neon installation, which mimics water flowing from a rain gutter using a long strip of blue neon while a steel bucket catches the light below. After a hard day out in the elements, Sachs' warm-hearted alpine delights are the perfect antidote to the cold.
INFORMATION
The exhibition is on view at Vieux Chalet in Gstaad until 18 February. Open by appointment only. For more information, visit Rolf Sachs' website

Photography: Jon Etter