Rocket man: Jonathan Stephenson puts his London gallery back on the map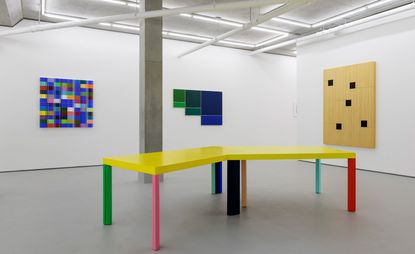 (Image credit: TBC)
It's been a while since London's Rocket (opens in new tab) has been on the scene, but after a two-year hiatus, the gallery - headed up by Jonathan Stephenson - is back, just not where you might expect.

In 2013, the gallerist closed his Shoreditch premises with the seemingly straightforward intention of relocating Rocket to a new, 4,000 square-foot space about a mile down the road, in London Fields. But after conversion of the new Sheep Lane site began, it swiftly became apparent that what had been envisioned as a five-month project was going to take considerably more time (and money).

'Eighteen months later we were just about complete with the building work,' says Stephenson. Even then, there was major work to be done. 'The space was literally just a raw concrete shell…No power, no water, no walls, no floors, no doors, no staircase, no nothing! It was a big learning curve.'

That staircase is of particular note. 'We looked at every conceivable option: metal, wood, metal and wood together, [before finally settling on] concrete with painted steel banisters. At several points I felt it was never going to be resolved, but gradually it evolved and became an exciting feature of the two-level space.'

The split-levels are integral to Stephenson's vision for Rocket's new quarters, with their industrial, White Cube aesthetic. In the main ground floor showroom, Rocket will continue to operate as a gallery (its launching exhibition featured works by Martin Parr (opens in new tab), Imi Knoebel, Ditty Ketting and a rug by Jonathan Saunders (opens in new tab) for The Rug Company). But there is also a subsidiary space to showcase pieces of furniture and graphic works, a photography studio for fashion and product shoots and an office and studio (Stephenson also works as a book designer and typographer). 'I've designed it to provide opportunities for the various strands of my business…It is a very creative space, which comes to life when various projects are being worked on simultaneously,' he says.

Rocket has always been a champion of the overlooked and underappreciated, playing host to retrospectives of colour kings Ib Geertsen and Larry Zox among others. If its triumphant inaugural exhibition is anything to go by, it is clear that while Rocket's home may have changed, its heart is staying exactly where it's always been.
ADDRESS
Rocket
4-6 Sheep Lane
London
E8 4QS