Richard Mosse: when a weapon becomes a tool for storytelling
Documentary photographer Richard Mosse's first retrospective charts a career of subverting conventional narratives of war, immigration and climate change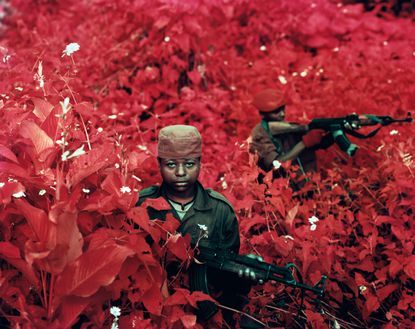 (Image credit: Richard Mosse)
Wallpaper* Newsletter
Receive our daily digest of inspiration, escapism and design stories from around the world direct to your inbox
Thank you for signing up to Wallpaper. You will receive a verification email shortly.
There was a problem. Please refresh the page and try again.
There is great power in repurposing a tool associated with destruction for creation, something that Irish artist Richard Mosse is well versed in. Often working with technologies originally classified as weapons, he covers challenging topics of conflict, immigration and climate change.

Now on show at Italy's Fondazione Mast, 'Displaced' is Mosse's first anthological exhibition, consisting of more than 70 large-format photographs and two large-scale video installations.

'Richard Mosse firmly believes in the inherent power of the image, but as a rule, he renounces shooting the classic, iconic images related to an event. He prefers to account for the circumstances, the context, to put what precedes and what follows at the centre of his reflection,' says exhibition curator Urs Stahel.

'His photographs do not show the conflict, the battle, the crossing of the border, in other words, the climax, but the world that follows the birth and the catastrophe. The artist is determined to revive documentary photography, bringing it out of the blind alley in which it has been confined. He wants to subvert conventional media narratives through new technologies – often of military-type – precisely to unhinge the representative criteria of war photography.'
It is these technologies that Mosse breaks out of documentary photography's contentious mould. For Infra, he uses discontinued reconnaissance infrared film to register chlorophyll in live vegetation, depicting the verdant Congolese landscape as a rainforest of pinks and reds. It could be a surreal idyll if it weren't for the human skull, or a young, wide-eyed man holding a gun.

In Heat Maps, Mosse documents mass migration with thermal imaging. What is warm appears light, while cold is dark. With over 1,500 images stitched together to create these thermal panoramas, the formal framing of documentary is bent further due to time lags between exposures; a person often appears several times in a single composition. This same thermal technology is used for the audiovisual installations Incoming and Grid (Moria), which depict scenes surrounding the migrant experience.
In Ultra, Mosse focuses on another battle for survival, photographing the Amazon rainforest with a UV-fluorescence technique that creates a luminescent colour spectrum. The endangered biodiverse environment becomes a glittering fantasy, a showpiece that overrides nature's camouflage.

Tristes Tropiques zooms out to depict environmental criminality from the perspective of a drone. Working with multispectral film used in advanced satellite technology (and for military reconnaissance), Mosse creates an alarming survey of the destruction of vast expanses of the Brazilian rainforest.

In 'Displaced', viewers gaze into the eye of each social, political, economical storm Mosse is documenting. With the use of these technologies, he brings pause and clarity. For all of documentary photography's complexities, Mosse's shifted perspective is valuable for reflecting on our world's crises.
INFORMATION
Richard Mosse, 'Displaced' until 19 September 2021, Fondazion Mast, mast.org
Receive our daily digest of inspiration, escapism and design stories from around the world direct to your inbox
As Photography Editor at Wallpaper*, Sophie Gladstone commissions across fashion, interiors, architecture, travel, art, entertaining, beauty & grooming, watches & jewellery, transport and technology. Gladstone also writes about and researches contemporary photography. Alongside her creative commissioning process, she continues her art practice as a photographer, for which she was recently nominated for the Foam Paul Huf Award. And in recognition of her work to date, listed by the British Journal of Photography as 'One to Watch'.
With contributions from