Rankin captures NHS heroes in new portrait series
The British photographer's latest project shines a spotlight on frontline healthcare workers from across the UK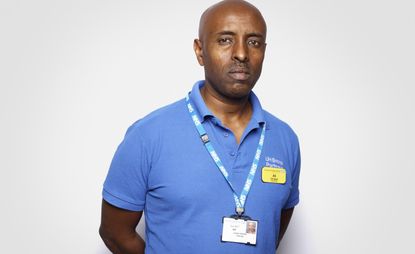 (Image credit: Rankin)
When it comes to famous faces, there are few that Rankin hasn't photographed. But for his latest project, the British portrait photographer is turning his lens on the everyday heroes we might not know – the NHS frontline workers who have been keeping the health service going during the pandemic.

In a series of 12 portraits marking the 72nd anniversary of the NHS, Rankin shines a light on courageous medical staff from across the country including a midwife, 111 call handler, porter, nurse, cleaner, ICU consultant, paramedic and IT worker.

Having worked in the NHS in his younger days, it's a project close that is very close to his heart. 'I was a theatre porter for a bit of time between my studies. I loved it so much, it was a growing up, coming of age experience for me and I really got to experience the community, camaraderie and passion of the people who worked there.' More recently, in 2019, he worked with Public Health England on a national campaign around mental health.
The portraits were taken over four days under lockdown conditions in an elaborate set-up which saw Rankin capture each subject from behind a plastic sheet (see more of this on our Instagram). 'The social distancing when we're photographing people was very strange; having to shout across two metres. We were all a little bit nervous, but meeting these incredible people gave me great confidence. Every person was so far beyond my expectations. They have so much humility and all are such characters. They really were larger than life people.'

'Even to just give them an hour where they're not having to think about this crisis, where they could just enjoy the process, that was really rewarding. These are people doing a job that is so so important to all of us.'

The photographer has kept the aesthetic of the images deliberately stripped back, with no hair or make-up and little retouching. 'There's no bells and whistles, I wanted to let the people speak for themselves. I just wanted to see their eyes and see their humanity because it's so apparent looking at each of them.'
'I really believe you can tell a lot about human beings from the way they look through the camera. These people speak for themselves, they really are heroes, they all say they're not – but each of them has done something heroic. Their compassion and their humility is what links all of them. They are all passionate about being compassionate about what they do. These people are putting their lives at risk for us.'

The portraits will be displayed across Britain at bus stops, on billboards and at the Piccadilly Lights in London's Piccadilly Circus. Reflecting on his hopes for how the Covid-19 crisis might reshape society Rankin says: 'I do think that empathy will stay with us, I don't think it will disappear overnight. We know that these frontline workers are here now, and we will respect them. If there's anything positive about this pandemic – and very little has been positive about it – it's that we have sped up change. Real caring about the community and the nation has become such an important part of our daily lives. The frivolous, shallow stuff is not as important anymore.'
INFORMATION
All portraits have been donated by Rankin to the NHS. england.nhs.uk/rankin