Prune Nourry's sculptures are to be touched, but not seen
At Galerie Templon, Paris, French artist Prune Nourry is exhibiting sculptural busts of visually impaired models. She has never seen the works, nor will anyone who visits the exhibition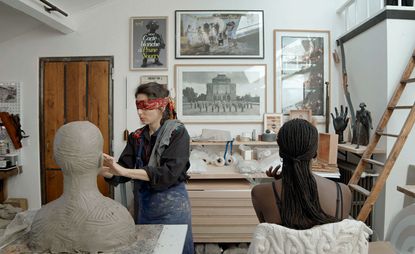 (Image credit: Prune Nourry and Templon)
At Galerie Templon in Paris, a new exhibition by French artist Prune Nourry is breaking the golden rule of art exhibitions, by encouraging visitors to touch the artworks. But the convention-breaking doesn't end there; Nourry has never seen her works, nor will anyone who visits the exhibition, which will take place in total darkness.

For 'The Phoenix Project', Nourry invited eight visually impaired models to sit for her. She sculpted busts of each while blindfolded, simply through touching and listening. 'I tried to find people of different ages, with different stories and perspectives. The sculptures were not only done by touching the faces, but by listening a lot.' Some of the models Nourry invited to take part in the project had been blind since birth, others lost their sight through accidents or illnesses, but all, as the exhibition text explains, 'have succeeded in overcoming their disability through their profession or voluntary work'.
'I try to see the world through their eyes, their words; it also makes me change my perspective. I am not looking for hyperrealism, on the contrary. Also, at the end of the sessions, I suggested they come and touch the bust with me and give their opinion, and sometimes it's like a rediscovery of their face that they thought they knew,' she says. 'Some models, in this very particular period, had not been touched for more than a year, so for them it was extremely moving to have someone who came to discover each of their features and who took a considerable amount of time to feel each detail of their skin.'

Nourry began by modelling the portraits in clay before moulding and casting them using Raku, a traditional Japanese ceramic technique. Once removed from the kiln, each fired clay sculpture was engulfed in ash, which then reemerged 'like a phoenix'.
This is not the first time the artist has encouraged visitors to 'touch the artworks'. In 2014, she urged physical engagement with her Terracotta Daughters, 108 lifesize sculptures in fired clay. 'Sculpture for me is such a sensual material and to me the touch is important,' she says. But the idea went further than the experience of touch, it was about making the experience of art more accessible. 'If not sculpture, then what?' she says. 'It's an art that is made for touch and made for people who don't have sight. After that, all of my shows tried to give as much access as possible to people who can't see.'

Nourry's work has long confronted ethical issues relating to the human body, healing, imbalances due to gender selection, scientific excesses, and the interdependence between living species. In 2019, after being diagnosed with breast cancer, Nourry created a film called Serendipity. She documented her treatment, its effect on her body and analysed her work in the ten years before her diagnosis. She unearthed startling coincidences. 'One of my first sculptures was a breast' she says.
In 2009, she staged Procreative Dinners, performances in which Nourry teamed up with a chef and a scientist to create a meal based on the different stages of assisted procreation. 'At the end, people ate îles flottantes in which the top was a nipple of almond paste modelled on mine. I didn't know at some point I would lose a nipple because of reconstruction [surgery], but would still have the mould from that project.' In parallel to the exhibition, Nourry has published a new book, Aux Amazones, a poignant testimony of her illness with a preface by Angelina Jolie.

The concept of serendipity also played a role in 'The Phoenix Project'. 'I called the first model to ask him to pose for me; he accepted and I hung up the phone. Just then, my child put his mini fingers with his mini nails inside my eye and I was blind for four days. Being [temporarily] blind while starting a project about blindness put everything in perspective. That was a lot of learning for me.'
'The Phoenix Project' takes place in complete darkness, and has been created against standard guidance systems for the blind and visually impaired. As well as consulting with the National Institute for Blind Youth (INJA), Nourry took inspiration from the Centre des Monuments Nationaux, which offers blind and visually impaired people the opportunity to discover France's historical monuments using innovative tactile and auditory aids.

Through tactile guide paths and a rope stretched between the busts, visitors can explore each of Nourry's sculptures with their hands. Recordings of conversations between the artist and her models play above each work, transporting visitors to the intimacy of the studio sittings.
An experimental short film by Vincent Lorca and Prune Nourry – accessible through audio description – focuses on the relationship between the Nourry, her models and the materials. Also for the show, a portrait of Nourry was shot by acclaimed Slovene photographer Evgen Bavcar, who has been completely blind since an accident aged 11.

On the walls, another series depicts a different sort of portraiture: paper works of the models' hands, embossed with the help of a workshop of artisans specialising in Braille. 'For visually impaired people, their hands become their eyes, but are also forms of portraits with the lifeline,' says Nourry. The impressions their palms add a new layer of symbolism, one that emphasises the only sense through which we can experience Nourry's work. Like the artist's bust sculptures, these are made to be touched, not seen.
INFORMATION
'The Phoenix Project', until 23 October 2021, Galerie Templon, Paris, templon.com (opens in new tab)
ADDRESS
30 Rue Beaubourg
75003 Paris
VIEW GOOGLE MAPS (opens in new tab)
Harriet Lloyd-Smith is the Arts Editor of Wallpaper*, responsible for the art pages across digital and print, including profiles, exhibition reviews, and contemporary art collaborations. She started at Wallpaper* in 2017 and has written for leading contemporary art publications, auction houses and arts charities, and lectured on review writing and art journalism. When she's not writing about art, she's making her own.