Art angel: Porch Gallery opens an inaugural group show in honour of Carolyn GlasoeB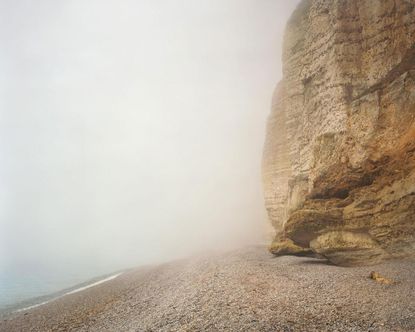 (Image credit: Alec Soth.Porch Gallery)
Though it doesn't translate exactly into English, the Finnish word sisu might be the best way to describe the late Minnesota-born gallerist, curator and art advisor Carolyn GlasoeBailey. 'Sisu means stoic, determination, grit, bravery, guts, resilience and heartiness, expressing the historic self-identified Finnish national character,' says Lila Glasoe Francese, Carolyn's sister, reading from a Wikipedia listing on her iPhone. She's sitting in the parlor room of Ojai's Thacher House bed and breakfast, at the VIP dinner inaugurating the Carolyn GlasoeBailey Foundation, of which Glasoe Francese is president. 'They say that Finnish women have sisu and she did.'

After scoring an internship at a Minneapolis's Douglas Flanders & Associates gallery at the tender age of 16, GlasoeBailey had started her own gallery (with local gallerist Kim Montgomery) by the time she was 19, thinking there was a better way to sell art, focusing less on blue chip talents and more on building careers for young local practitioners. She eventually settled in Ojai, California where she and her husband Chris Bailey purchased a house 19 years ago. Years later she moved to Manhattan after New York dealer Elizabeth Dee invited her to join forces – resulting in the short-lived, if well-regarded, Dee Glasoe. In 2002 she returned to Ojai, where she enjoyed cooking exotic meals, entertaining guests at her art-filled home, and working as an art advisor – and board president of the Museum of Contemporary Art Santa Barbara – who not only fostered young talents (like Rob Fischer, Chris Larson, Charlotta Westergren and Ry Rocklen) but made sure their work ended up in top collections and museums, and that they were compensated for their work ahead of everyone else.

'Carolyn got that check, the artist got paid, she really believed in supporting artists and especially artists who are alive,' says Glasoe Francese, who keeps a sign in the front window of the Foundation boldly exclaiming her sister's motto: 'Put Your Big Girl Pants On'. 'She made stuff happen,' she continues.

Another way to define this Finnish determination might be found in the title of the foundation's inaugural group show, 'Fierce Generosity', which opened this weekend at the three year-old Porch Gallery operated by Heather Stobo and Lisa Casoni out of the 19th century home of Ojai pioneer John Montgomery. In the wake of GlasoeBailey's death last fall, after a long battle with glioblastoma brain cancer, 39 of the art world's brightest lights – including Rocklen, Sanford Biggers, Sterling Ruby, Xaviera Simmons, Melanie Schiff and Alec Soth – have reciprocated their friend's ferocious magnanimity by donating works to fund her foundation, whose backers are hoping to establish their own Chinati or Storm King-style sculptural park in the years to come.

The first public piece in that collection may well be Rob Fischer's three-sided sculpture, Curtains, a painted glass and steel metaphor about GlasoeBailey, her husband Chris Bailey, and their son Matson, which when viewed from any single perspective shows two sides supporting (and bleeding into) each other. 'I rarely ever make something about a relationship about anyone, and metaphors are much better when they're subtle, but I really wanted to make something that was for her and about her,' says Fischer, a Minneapolis native who is the first recipient of the Foundation's artist award. Fischer met GlasoeBailey in New York at an opening of Dee Glasoe, where he made two exhibitions, including an elevated glass and sheet metal house installation filled with sculptures made from found oars and a leaking/bubbling ceiling. 'She would support anything I wanted to do and she would sell whatever she needed to if I needed money, which was always. She wouldn't even take a commission.'

Rather than keeping the art gifts (opens in new tab) from Fischer, GlasoeBailey sold them and gave Fischer back the money, and shipped her old SUVs to him when he needed a car. Another example of GlasoeBailey's largesse comes via Rocklen, who was going through a rough patch in the winter of 2009 after parting ways with LA gallerist Parker Jones. 'I don't know where I'd be without her. It was like this shot out of the sky, she really was this art angel. Out of nowhere Carolyn reached out to me and almost instantly she sold everything in the studio,' recalls Rocklen, who made a ceramic Globowl sculpture of the earth for the Porch Gallery show. 'That piece [Globowl] meant a lot to me and I'm happy it came back. Carolyn operated in the ways of love and I'm really honored that she found my work to be good. She was a very soulful person who cherished her relationships and that always comes back – we're now seeing the connections she made between the works and collectors and the artists were deeper and a little [bit] of magic.'

With plans from Stobo and Casoni to continue fostering these relationships, via solo shows with proceeds going toward the foundation from artists in the group show (and the dozens of others whose work couldn't fit in their modest space), that magic should emanate from Ojai for years to come.
INFORMATION
'Fierce Generosity' is on view until 21 August. For more information, visit the Porch Gallery website (opens in new tab)
ADDRESS
Porch Gallery
310 E Matilija Street
Ojai, CA 93023