Pop will eat itself: Tate Modern misses a trick with new global pop retrospective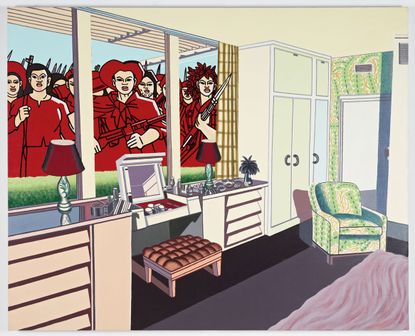 (Image credit: mumok, copyright the artist/Bildrecht Wien)
Pop art exhibitions are like carbonated drinks – they bubble up constantly and have a habit of repeating on you. Sure, they're tempting and seductive, but often far too sugary to provide anything other than a short-lived high. Tate Modern's major autumn exhibition, 'The World Goes Pop (opens in new tab)', aims for something more substantial: a survey of art from the 1960s and 70s infused with popular culture that addresses real issues and doesn't hail solely from North America, or feature any of the obvious names (Warhol, Lichtenstein, Hockney et al). Instead, this is a smorgasbord of global pop, taking in little-known examples from Spain, Belgium, Brazil, Japan, Germany, Poland and Russia, among other locations. There's also feminist body pop, interactive pop, psychedelic pop, as well as revolutionary and rabble-rousing pop.

The show gets off to a convincing start with rooms dedicated to politically motivated pop, including a takedown of Franco's Fascism, numerous protests against the Vietnam War and a giant papier-mâché fly swatter, which is a humorous, rather than wholly serious, response to a brutal 1964 Brazilian military coup. Indeed, there is little here that feels iconic or powerful enough to elevate yet another image of Che Guevara or a freedom fighter beyond those which have already come to represent the era. For every strong, moving work – such as Rafael Canogar's surprisingly relevant ode to police brutality from 1969, The Punishment – there is a lightweight treatment of nuclear war or rampant consumerism that initiates nothing more than a shoulder shrug.

The odd animated film and eccentric outsider artist briefly flare up beyond the background noise and then recede quickly in the mind, often competing with louder neighbouring paintings or unnecessarily flashy display solutions. The saving graces are few and far between: a video by Sanja Iveković superimposing Yugoslavia's hopeless propaganda with black prison bars is somewhat lost amid a room wallpapered in Laughing Cow heads by German artist Thomas Bayrle (a whole three years after Andy). A strange painting of a lady whose busty figure is partly revealed by an actual zip simply comes off like a Richard Hamilton derivative. Exploring new territories is one thing but much of this pop should just eat itself.
INFORMATION
'The World Goes Pop' is on view until 24 January 2016
ADDRESS
Tate Modern (opens in new tab)
Bankside
London SE1 9TG
VIEW GOOGLE MAPS (opens in new tab)