Polly Brown explores the friction-filled process of airport security checks
From colourful signage in Hokkaido to watery wavescapes in Miami, the artist's series of x-ray damaged film photographs subverts the romance of travel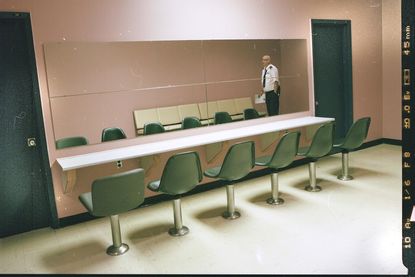 (Image credit: Polly Brown)
An airport is perhaps the archetypal liminal space. Designed to be moved through quickly and efficiently – and immediately forgotten upon departure – each one is nonetheless a warren of secret corridors and rooms, carefully concealed, almost invisible holdings, which nod to a more sinister operation.

London-based photographer Polly Brown has long been interested in similar institutions, from galleries to office spaces, and their nuanced, quiet control of those who move through them. Three years ago, she was spending more time than usual in airports, working on a new project which involved extensive travel, and quickly realised she hadn't yet 'learned the rules about travelling internationally with film'.
With each pass through the security scanner, her unprocessed rolls had been scarred with a new layer of X-ray corruption – fogging, or colour distortion, or pure waves of light which rippled through the resulting images, exposed only upon their return from the lab. Fascinated by the sight of journeys mapped involuntarily through damage, she sought to investigate further. 'It allowed me to start seeing photographs in a different way,' she says. 'It is a kind of non-human photography, that avoids the nostalgia of airports and the romance of travel altogether.'

The extensive investigation which followed resulted in a new series, Airportals, which pairs photographs taken in airports around the world with unrecognisable abstracts, all captured using X-ray scanner-damaged film. From colourful signage in Hokkaido to watery wavescapes in Miami, the resulting images are eerily beautiful, permeated by a sense of unease – and dotted with markings caused by the process they are subjected to.
It's easy to forget, when stopping to eat at a restaurant or to pick up a last souvenir at a brightly lit shop, that 'these are friction-filled spaces', Brown says. 'They're places of protest, tension and invasion.' In a world in which immigration, terrorism and even the ecological impact of aviation have changed what it means to travel, film's preconceived nostalgia stands in stark contrast with the disquiet these images document.

This week, an exhibition of Airportals opens in Amsterdam, presented by photographic agency We Folk. In the show (the artist's first solo outing in the Netherlands), the C-type prints are reverse Perspex-mounted, in a reference to the ubiquitous illuminated billboards and travelators that line airport walls. That seeing it – indeed, hanging it – might require international travel seems entirely apt. If carrying film, Brown advises you ask for a hand check.
INFORMATION
'Airportals', 24 October – 15 November. wefolk.com (opens in new tab); pollybrown.info (opens in new tab)
ADDRESS
We Folk Presents
Prinsengracht 371 B
1016 HK
Amsterdam