Pioneer spirit: Paul Kasmin celebrates the legacy of Frank Stella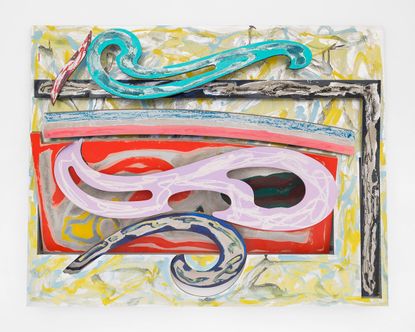 (Image credit: Courtesy Frank Stella / Artists Rights Society (ARS))
The seminal painter and sculptor Frank Stella is commanding considerable attention amidst the frenzied opening of the art season. Preceding his retrospective at the Whitney Museum of American Art, Chelsea dealer Paul Kasmin is staging 'Frank Stella: Shape as Form'.

Stella was a multitalented practitioner, exemplified in this exhibition, which showcases a total of ten works, each marking pioneering periods of an oeuvre spanning 50 years. Beginning in the 1960s, Stella began exploring a minimalist vocabulary and a dialogue between sculpture and painting.

For example, Sinjerli III – drawn from his 1967 Protractor series – highlights his use of fan-like composition, painted with crisp concentric bands of colour, going far beyond a mere two-dimensional canvas to one appearing both recessive and protruding at the same time.

Just four years later, Stella's Felsztyn II, from his Polish Village series, marks a sudden departure from a totally two-dimensional picture plane to examples that extend out into space. Even his palette – in saffron yellow, dove blue and grey – is distinctive. 'What was important in the case of Polish Villages was something else – constructions,' he explained at the time. 'I built my own paintings.'

By 2005, the artist's work shifted in yet another direction, as his lurid K 17 approaches both sculpture and relief while consisting of cast aluminium and stainless steel.

With Christie's selling Stella's shaped canvas Abajo for $6.7 million only a year ago and the Whitney retrospective just around the corner, the innovative artist's legacy has been secured for good.
INFORMATION
Photography courtesy Frank Stella / Artists Rights Society (ARS), New York, 2015. 'Frank Stella: Shape as Form' will be on show until 10 October
ADDRESS
Paul Kasmin Gallery
293 Tenth Avenue
New York, NY 10001
VIEW GOOGLE MAPS (opens in new tab)