Smoke and mirrors: Les Lalanne transform Paul Kasmin Gallery into a whimsical world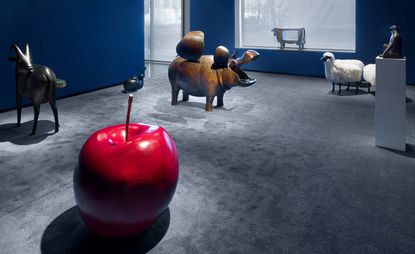 (Image credit: TBC)
In 1993 Yves Saint Laurent commissioned the artist Claude Lalanne to create a mirror. The piece, framed by winding water lily leaves and candleholders at the side, stands at nearly 10 ft tall. It would become one of the largest mirrors ever made by Claude, who worked separately from his wife François-Xavier but often presented their work together.

That mirror, along with three new reflective designs – an extension of the hall of mirrors designed by Claude that once lined a section of Yves Saint Laurent and Pierre Bergé's Rue Bonaparte library – is currently on display until 22 April in Les Lalanne at Paul Kasmin Gallery's 10th Avenue space in New York. The exhibition features over 20 works, both new and historical, by the legendary French sculptors.
Claude was particularly drawn to using flora and fauna as a motif in her sculptures. She often looked at her own garden as a source of inspiration, incorporating vines, leaves and flowers into the furniture and sculptures she designed. Along with the new mirrors, created in 2017, the other recent works include a 2009 bronze bureau of a cast crocodile skin. A number of bronze chairs and benches, composed of intersecting bamboo sticks, line the first room of the exhibition, turning it into a showcase of intricately worked furniture that are imbued with a naturalism reminiscent of the Art Nouveau period.

The second presents a whimsical world of fauna made by François-Xavier in full glory; a bronze sculpture of a cow greets passersby in the gallery's front window. Here, some of Lalanne's animal forms are fused with functional qualities for surrealistic effect: a desk of bronze, leather and wood shaped like a ram grooming itself stands in one corner of the room. Elsewhere, a bar crafted from wood, bronze, stainless steel, and copper humorously takes the form of a hippopotamus, originally designed by François-Xavier in 1976. It wouldn't be a Lalanne show without the famous sheep sculptures, first introduced in 1965 at the Salon de la Jeune Peinture in Paris. A trio stand stoically in a corner of the space, while a bronze snail with an arrow on its head mirrors their dream-like appeal just opposite.
'Hippopotame II (bar)', by François-Xavier Lalanne, 2007
INFORMATION
'Les Lalanne' is on view until 22 April. For more information, visit the Paul Kasmin Gallery website (opens in new tab)
ADDRESS
Paul Kasmin Gallery
293 Tenth Avenue
New York NY 10001
VIEW GOOGLE MAPS (opens in new tab)