Picnic paintings: Stevenson Gallery in Cape Town shows Deborah Poynton's fantasy works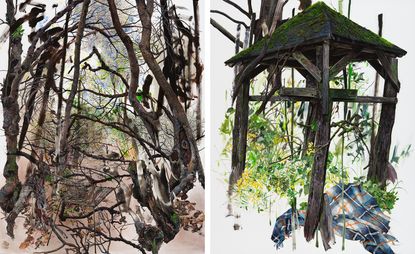 (Image credit: TBC)
Launched yesterday at Cape Town's Stevenson Gallery 'Picnic' is South African artist Deborah Poynton's eighth solo exhibition with the gallery.

Through a series of both paintings and drawings, the artist uses the picnic as a metaphor for exploring concepts of 'pleasure, containment and also freedom'. According to the Stevenson's Sinazo Chiya, the 'verdant scenes in secluded settings oscillate between hyperrealism and abstraction, underpainting and the unpainted; exposing the logic of their making and pointing to the illusory nature of the painted image'.

Poynton says, 'I have painted this series of "picnic paintings" because I like the idea that both picnics and paintings are fantasies about pleasure. A picnic can be an allegory for a perfect, imaginary place where beauty and pleasure abound. A painting is the same; a self-conscious framework, a way of being contained, while also tasting a bit of freedom.

'We lay down a blanket, staking out a piece of ground, and nature becomes less formless and meaningless in our eyes; it starts making sense as a backdrop to human existence. The edges of the blanket are the borders of our territory. From within those borders we feel secure enough to admire the landscape,' Poynton explains. 'I feel like paintings do the same thing for us. Inside their four edges, formlessness becomes form. Paintings show us to ourselves, in relation to the world.'

Besides the show in Cape Town, the Stevenson Gallery will also be showing Poynton's work at the FNB Joburg Art Fair from 9–11 September.
INFORMATION
'Deborah Poynton: Picnic' is on view until 8 October. For more information, visit the Stevenson Gallery website
ADDRESS
Stevenson Gallery
Buchanan Building
160 Sir Lowry Road
Woodstock 7925
Cape Town
Daniel Scheffler is a storyteller for The New York Times and others. He has a travel podcast with iHeart Media called Everywhere and a Substack newsletter, Withoutmaps, where he shares all his wild ways. He lives in New York with his husband and their pup.