Luis Alberto Rodriguez's dynamic nudes explore power and purity in new photo book
Luis Alberto Rodriguez, a Dominican-American dancer-turned-photographer, combines a choreographic approach to the body with nods to heritage and family in new book 'O'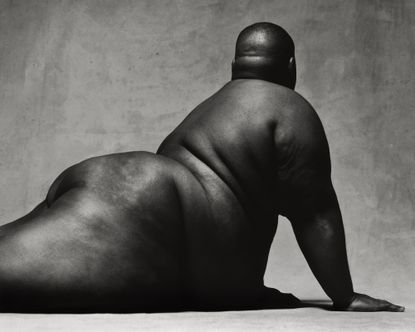 (Image credit: © Luis Alberto Rodriguez 2023 courtesy Loose Joints)
Wallpaper* Newsletter
Receive our daily digest of inspiration, escapism and design stories from around the world direct to your inbox
Thank you for signing up to Wallpaper. You will receive a verification email shortly.
There was a problem. Please refresh the page and try again.
Artist Luis Alberto Rodriguez already had a successful creative career before turning to photography – as a Juilliard-trained dancer, he performed worldwide for 15 years. The choreographic approach of a dancer remains as he's evolved towards image-making, particularly present in his new photography book O, an exploration of power and an idea of purity, published with Loose Joints.
The dynamic nudes began from the personal turmoil experienced on a collective level during the pandemic 'I think it's fair to say it became a moment of reflection and contemplation for many of us. I began thinking of my own mortality, the state of denial I was in, and the unknown that always awaits us which at the time felt very scary. The initial conception of this new body of work stemmed from this aching and nagging feeling that had infiltrated my everyday life during that period.'
Rodriguez connects this emotion to French mystic thinker Simone Weil's philosophies; through photographing his subject's contorting physical expressions, the body becomes a distillation of the relationship between suffering and transcendence.
In these textural black-and-white images, diverse bodies stretch and fold far beyond our tight daily norms of behaviour. In the artist's words, 'O is sound, vibration, a gasp, an echo chamber, earth-shattering, a collective wail, a reset – our symphony.'
Another highly emotive dimension to the book is the inclusion of the Dominican-American artist's heritage. Rodriguez's mother's intuitive skills of tasseography (divination through coffee cup reading) sit in spiritual dialogue with the nudes. The artist's father is pictured within the series too, an unforgettable first Rodriguez says.
When asked about what's next, he tells us: 'Keeping my eyes open and following the sun.'
O by Luis Alberto Rodriguez is published by Loose Joints, £50, available at https://loosejoints.biz/
Receive our daily digest of inspiration, escapism and design stories from around the world direct to your inbox
As Photography Editor at Wallpaper*, Sophie Gladstone commissions across fashion, interiors, architecture, travel, art, entertaining, beauty & grooming, watches & jewellery, transport and technology. Gladstone also writes about and researches contemporary photography. Alongside her creative commissioning process, she continues her art practice as a photographer, for which she was recently nominated for the Foam Paul Huf Award. And in recognition of her work to date, listed by the British Journal of Photography as 'One to Watch'.