Photo 2021 explores the truth behind the image in Melbourne
Australia's biggest ever photography festival showcases work from over 120 global photographers in outdoor galleries and museums around Melbourne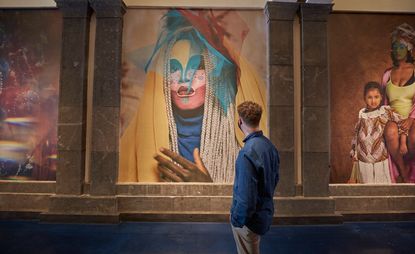 (Image credit: Atong Atem's)
In a year where we've consumed more images than ever before – but never felt quite so disconnected – a new photography festival asks us to explore the relationship between what we see and what we believe.

Taking place in Melbourne over the course of two weeks from 18 February, PHOTO 2021 is a major new festival of international photography featuring work from over 120 global photographers.

Based around the theme of 'The Truth', the inaugural event will see the Australian city transformed into a huge outdoor gallery with installations and site-specific works in notable locations including the Melbourne Royal Botanic Gardens, Fed Sqaure and State Library of Victoria.

Over 40 cultural institutions, museums and galleries will participate, with new commissions on display from artists including Hoda Afshar, Zanele Muholi, Sam Contis, Kenta Cobayashi and Atong Atem. The works reflect on the role of the photographic image in an era of social media, fake news, and artificial intelligence.

Originally conceived as Photo 2020, the festival was rescheduled due to the Covid-19 pandemic. Now, set to be Australia's largest ever photography event, it joins the likes of France's Rencontres d'Arles, Unseen Amsterdam, and Photo London as a world-leading platform for image makers.
Wallpaper*: Where did your inspiration to create PHOTO 2021 first stem from, and what role do you hope it will play in providing a platform for global photography discourse?
Elias Redstone: Photo 2021 was inspired by the incredible culture of photography and visual art that exists in Melbourne. Melbourne is Australia's cultural capital and has the potential of becoming a global centre for photography. The city is home to venues dedicated to photography such as the Centre for Contemporary Photography and Monash Gallery of Art, strong collections of photography at NGV and other institutions, multiple schools of art and photography, and some brilliant artists and curators. The festival is a time for the sector in Melbourne and across Australia to come together and connect with the international photographic community.

There are so few Australian artists and photographers that receive attention abroad, and few opportunities for the presentation of international photographers to exhibit in Australia. We are working to correct that balance and, with a focus on commissioning new work, the intention is very much for Photo 2021 – and future festivals – to be a barometer for what is happening in contemporary photographic practice, here in Australia and abroad.

With a focus on one central theme, each edition will explore a current issue from multiple perspectives. Each venue curates their own response, and the festival commissions artists to respond to the theme in a very public way, presenting work in the public realm and at an urban scale. The events and education program is then an opportunity to learn more about artists' practices and investigate the theme in more depth.
W*: Many of the events and exhibitions planned for Photo 2021 are staged within public spaces with free access such as Sam Contis' Beating Time, Movement of the Hand (After Lange) and Zanele Muholi's outdoor installation. What were your key priorities in ensuring the festival will be as accessible to the public as possible?
ER: The festival brings together my curatorial experience working across photography, architecture and urbanism, and is embedding art into the fabric of the city. It supports the work of galleries dedicated to exhibition making year round, by creating a special moment for artists to break out of the confines of the white cube to create unique experiences at unexpected sites around Melbourne.

Conceived as a festival of exploration, we are bringing photography to Melbourne's streets and laneways, with work installed on sculptural installations, billboards, buildings and several hundred metres of construction hoardings with the Metro Tunnel Creative Program. The Festival will encourage the public to engage with and think about photography and visual culture in new and inspiring ways, leading visitors on a trail of photography installed at iconic locations, from the Parliament of Victoria and State Library Victoria to the Royal Botanic Gardens.
W*: The festival was originally conceived for 2020, and the world has changed quite a lot since. Aside from the postponement of the festival, how has the pandemic, or other global events, affected your approach - did anything change thematically or logistically?
ER: The festival was postponed at very short notice, but the artistic program is being presented as pretty much as originally intended. Some of the exhibitions that were already being installed when we postponed opened last year and are being represented at Photo 2021 through online content and virtual tours. The biggest problem we face is that Australia's borders are still closed.
We had been looking forward to hosting some incredible artists in Melbourne – Sam Contis, Emmanuelle Andrianjafy, Felicity Hammond, Kenta Cobayashi, George Georgiou to name a few – and have had to adapt our events and education programs accordingly. On the plus side, it does mean that we will now be live streaming our headline talks program PHOTO LIVE and expanded symposium PHOTO IDEAS to allow audiences around the world to participate.
W*: The commissioning of new work and staging world premieres of projects seems to be a primary focus for the festival. One of these is Hoda Afshar's Agonistes. Can you tell us a little about what we can expect from this piece, and why you consider the work so important?
ER: From the start, Photo 2021 was conceived as a festival of new photography and new ideas. It felt important to focus not just on what is happening now in photography, but what is coming next, with new commissions and the premiering of new bodies of work. One of the central commissions is by the Melbourne-based Iranian artist Hoda Afshar.
When we discussed the idea for a commission, Hoda knew exactly how she wanted to approach the theme of The Truth: by exploring the experience of whistleblowers who have spoken out against Australian institutions, from detention centres to the military. Hoda is an absolutely fearless artist and one of the most important voices in this country. We are presenting her series of photographs outside St Pauls Cathedral on Melbourne's Swanston Street. The work – accompanied by a new film that is being screened at the Photo 2021 – Hoda explores what provokes people to take a stand and speak out, despite the risk to their careers or personal wellbeing. It is a shocking work that is urgent, powerful and absolutely unforgettable.
INFORMATION
Photo 2021 takes place across Melbourne from 18 February to 7 March 2021. photo.org.au
Harriet Lloyd-Smith is the Arts Editor of Wallpaper*, responsible for the art pages across digital and print, including profiles, exhibition reviews, and contemporary art collaborations. She started at Wallpaper* in 2017 and has written for leading contemporary art publications, auction houses and arts charities, and lectured on review writing and art journalism. When she's not writing about art, she's making her own.