Perrotin Shanghai art gallery opens with Wim Delvoye exhibition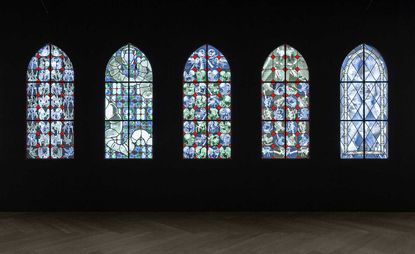 (Image credit: Ringo Cheung)
The choice of artist for an inaugural exhibition says a lot about a new gallery. In the case of Perrotin Shanghai (see Wallpaper's November 2018 issue, out 11 October) showcasing Belgian neo-conceptual artist Wim Delvoye, it also speaks volumes about China's rapidly diversifying tastes in contemporary art.

Belgian-born Wim Delvoye already has a notorious reputation here for provocative art due to the Art Farm he established in 2003 outside Beijing, where piglets were tattooed with intricate paintings and luxury brand logos. As the pigs grew, the 'art' expanded and, after a natural death, the skins were transformed into canvases and framed.

Although Delvoye's plans to show live tattooed pigs at the 2008 Shanghai Contemporary Art Fair led to the work being banned from the exhibition, he remains enthusiastic about working in China. 'The Chinese authorities are strict but at least things get done here whereas in Brussels the bureaucracy achieves nothing,' he says.
Several skins feature in this solo exhibition of 30 works at Perrotin Shanghai, which includes earlier pieces such as the quasi-religious Chapel series of stained-glass windows depicting erotic images captured by MRI scans, a laser-cut steel Twisted Dump Truck, and the twisted ivory marble sculptures, embossed aluminium works including a fire extinguisher decorated by Iranian craftsmen and a replica of China's most popular instant noodle pot carved in onyx that he is making now.

Material and scale vary dramatically but Delvoye's idiosyncratic fusion of humour, anarchism and exquisite craftsmanship is instantly recognisable throughout. The combination was clearly an attraction for the young collectors who flocked to the opening of the 1,300 sq m André Fu-designed gallery on Shanghai's Bund. 'They are attracted to pieces that take a lot of work because they want good value for their money,' Delvoye says.
This experience is markedly different to his memory of Shanghai in 2002: 'Then I managed to meet everyone who was important in art in just one day; now it would take a couple of years. Today there are so many curators and many young people buying art – almost without thought – but they are very well informed.'

The artist says future projects may include designing a cemetery. 'It's perfect. You can be quite authoritarian. Every artist is a dictator; that is the attraction of making art and the attraction of collecting.'

Perrotin Shanghai's inaugural exhibition will be followed by a monumental show of works by Japanese artist Takashi Murakami.
INFORMATION
'Wim Delvoye' is on view until 20 October. For more information, visit the Perrotin website (opens in new tab)
ADDRESS
Perrotin Shanghai
Room 501
27 Hu Qiu Road
Huangpu District
Shanghai
VIEW GOOGLE MAPS (opens in new tab)