Paul McCarthy plays a warped Willy Wonka at his Chocolate Factory in the Monnaie de Paris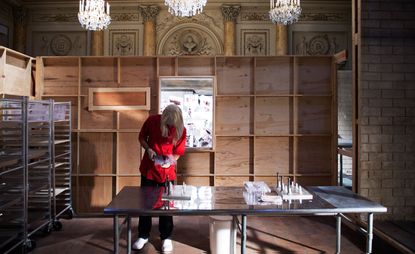 (Image credit: Marc Domage)
With its unambiguous resemblance to an enormous sex toy, Paul McCarthy's inflatable green 'Tree' – the one that dominated the Place Vendôme for less than 48 hours before an act of vandalism prompted its removal – offered a mere taste of what he has been cooking up for the newly reopened Monnaie de Paris.

The Los Angeles-based artist's 'Chocolate Factory' inaugurates the official reopening of the Paris Mint, which dates back to 864 and holds the distinction of France's oldest institution. Coins and medals continue to be issued from within the 18th century building, located along the left bank of the Seine. Now through January, McCarthy's fully operational chocolate factory-cum-installation means that edible, suggestive Santas and butt plug trees will be issued here, too.

Once visitors have ascended a grand staircase where a new cluster of inflatable trees stand sentinel, flagrantly testifying to McCarthy's resolve, they enter into the octagonal gilded reception hall completed by Jacques-Denis Antoine in 1775. Here, the assembly line has been erected as a windowed set, allowing visitors to observe platinum-wigged workers a few shades less creepy than Oompa Loompas. In this context, even the ordinary drummed machine that slowly rotates the moulds seems subverted by a disturbed Wonka.

Yet the production is for real. As of last night, upwards of 4,500 figures had been stockpiled in several salons, lining industrial racks speckled with chocolate drippings. If this sight alone isn't enough to stimulate, the smell succeeds; each inhale comes perfumed with a rich, recognisable aroma.

Such sweetness, however, is offset by projections of McCarthy scribbling furiously and manically in an oversized sketchbook. The words suggest he is replaying the comments hurled at him in response to the Vendôme sculpture; vocally, he sounds out each one like the possessed kid from The Shining.

So if Callebaut's 70 percent Venezuelan dark chocolate is McCarthy's medium, then what is his message? While the artist first staged the Chocolate Factory at the Maccarone Gallery in New York seven years ago, from within the Mint, it provokes a stronger commentary on the duelling forces of mass manufacturing and savoir faire. And as the first glimpse of the Monnaie's multi-pronged 'Metalmorphosis' renovation project, it is sure to generate the necessary buzz. Up next: a Guy Savoy gourmet restaurant, followed by workshop tours, new landscaped grounds and a Guy Savoy café scheduled for 2016 (the Michelin-starred chef advised McCarthy on the chocolate and French chocolatier Damiens lent expertise).

Chiara Parisi, the Monnaie's director of cultural programmes, explained how the institution will benefit from four contemporary shows per year. 'It's important to be participating in the cultural life of the city,' she said, between welcoming Christian Lacroix, Azzedine Alaïa, French minister for culture Fleur Pellerin and countless collectors in town for FIAC. 'It's such a special location and we want to improve people's awareness of the Monnaie and their experience here.'

As a souvenir of that experience, visitors can purchase the 300g figures for €50 each. Parisi encourages people to eat the chocolate rather than preserve it as an objet d'art. Anyway, the Mint has issued special commemorative coins, ensuring the exhibit's legacy long after McCarthy's work has been deflated and consumed.
ADDRESS
Monnaie de Paris
11 Quai de Conti
75006 Paris
France