At Paris Photo, a new wave of photographers are shedding light on the unseen
Curiosa curator Osei Bonsu opens up about his special showcase of 14 emerging artists – plus more highlights from the French photography fair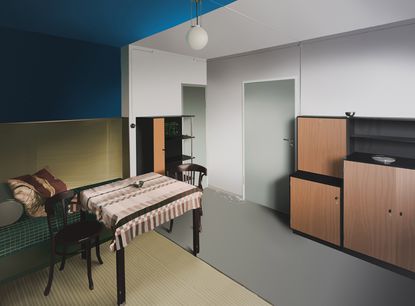 (Image credit: Adrian Sauer)
'Visibility' is the buzzword of the contemporary art world this year, but what we get to see and how we see it isn't quite as straightforward as we might think. Photography is the medium we expect to make the world visible – since its invention, the camera has had a habit of showing us everything, for better or worse, from foreign landscapes and cultures to the insides of our bodies.

But in recent years, it's become clear that we haven't been getting the full picture. Colonialism, racism, sexism and classism have all affected photography over the last century, and it's only now that artists are beginning to get critical about the camera's role in the world. What has remained unseen, and why, is something a new wave of photographers are increasingly becoming interested in, as this year's edition of Paris Photo proves.

The dichotomy between the visible and invisible, what gets seen and what doesn't, is the starting premise for Osei Bonsu's Curiosa at Paris Photo 2019, the second year the fair has invited a curator to organise this special section. Bonsu has chosen 14 photographers who aren't well known and whose subversions are subtle, eschewing the idea that art should have a political use value, but rather that 'there's something inherently political about making something visible', he says.
'Photographers nowadays are not necessarily interested in categorisation,' Bonsu explains. 'I think these artists are interested in the sensitivities of the medium.' The 27-year-old curator, recently appointed by the Tate Modern as Curator of International Art, has selected artists who deal with aspects of 'visibility', but confound our expectations of what that means.

Havana-born photographer Leandro Feal (represented by Cibrián) gives us iconoclastic snapshots of contemporary Cuba – no ruin porn or vintage cars in sight. Feal shares a non-linear, inconclusive way of presenting photographs with Marguerite Bornhauser (Galerie Madé), who is known for her sumptuous, rich cibachrome prints. The Parisian photographer gives us fragments, lined-up suggestively but ultimately offering no concrete story, turning the photograph into something less certain and more intuitively felt.
RELATED STORY
Photography can be, in the digital age, a compulsive and frenetic viewing experience, rather than the art of observation. Veering away from representation seems wise given how problematic that has often turned out to be. Elsewhere, images can be traced in dust, ash, paper and glass, used by artists to complicate ways of seeing the source and hint at the fragility of looking.
For Roman Moriceau, presented by Galerie Derouillon, luxurious large-scale close-up plant pictures seem to romanticise exotic plants, but in fact hint at colonialism. Shot at a botanical garden in Belgium, they are ultimately artificial representations, printed with glittering copper, making a link with the major profit-maker for Belgian colonial traders in the past in what is now the Democratic Republic of the Congo. 'Undergirding these beautiful works is a much more sinister history,' Bonsu explains.
As you exit Curiosa, the smell of film burning hits the back of your nostrils – a work by experimental artist and filmmaker Andrés Denegri (Rolf Art) that creates and destroys a roll of images of the Argentinian flag. Smoke follows you on your way out – as far as an art fair goes, it's a bold and urgent statement about the need for change and new ways of seeing.
More highlights from Paris Photo 2019
INFORMATION
Paris Photo 2019, 7 – 10 November. parisphoto.com (opens in new tab)
ADDRESS
Grand Palais
Avenue Winston Churchill
75008 Paris
Charlotte Jansen is a journalist and the author of two books on photography, Girl on Girl (2017) and Photography Now (2021). She is commissioning editor at Elephant magazine and has written on contemporary art and culture for The Guardian, the Financial Times, ELLE, the British Journal of Photography, Frieze and Artsy. Jansen is also presenter of Dior Talks podcast series, The Female Gaze.