No Night No Day, but lunch and a chat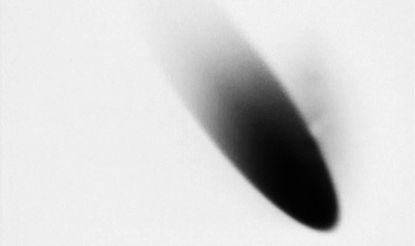 (Image credit: TBC)
Francesca Von Habsburg, Cerith Wyn Evans and Glen Matlock recently met for a lunchtime Symposium on Wyn Evans' new artwork No night No day.
Francesca Von Habsburg
The founder of the contemporary art foundation T-BA21 she has in the past collaborated with, among others, architects David Adaje and ArandaLasch and Arup Advanced Geometry Unit and artists Matthew Ritchie, Carsten Holler, Jim Lambie and Sarah Lucas. Previously she ran the international heritage organisation ARCH and is the curator of her late father industrialist Baron Heinrich Von Thyssen's expansive art collection.
Cerith Wyn Evans
Born in Llanelli in 1958, Wyn Evans didn't speak English until he was seven. After studying Fine Art he assisted celebrated filmmaker Derek Jarman in the early eighties before branching out on his own making experimental films that launched him into the contemporary art scene. Since, he has distinguished himself by creating works that express his fascination with both light and language.
Glen Matlock
The original and current bass player of the Sex Pistols Matlock wrote the music for all of the band's seminal songs. Subsequently he formed the Rich Kids with Midge Ure, Stevie New and Rusty Egan and has since played with the likes Johnny Thunders, Iggy Pop, Frank Black and Dead Men Walking and has now embarked on a solo career.
Chris Sullivan
The man behind Soho's infamous Wag club. Sullivan He began writing for The Face in the eighties, is the former Style Editor for GQ, penned the book Punk. Now a regular contributor to The Independent, The Times, Italian Vogue, Esquire and The Big Issue,this is the first piece he has penned for Wallpaper
All four of the above attended St.Martins College of Art together
Cerith Wyn Evans I've been working with my friend and fellow artist-musician Florian Hecker on projects for the last few years and we've been invited by Daniel Birnbaum- the director of Venice Biennale-, and commissioned by Francesca von Habsburg from TBA21 in order to realize this piece called No night No day.
Chris Sullivan How would you describe it to the layman?
CWE I try never to speak to lay.
Glen Matlock Who just wouldn't understand it?
CWE You could feel it. You could sense it, but explaining anything is just such a waste of time. Explanation has cost so many lives
CS How would you describe it then Cerith?
CWE Well we don't know what it is until it happens. It's very abstract
CS Okay just tell me about it
CWE We were always interested in doing something new .It was easier agreeing on what we didn't want than knowing where to go. Every single show off on Earth goes to Venice in order to somehow sell their narcissistic wares. So against this principle we have made this piece called No night No day.
Florian is a musician who works on these very experimental computer programs that some really might not think of as music, but sound that moves around the space and causes this distortion of the space within. I've tried to marry that by making a film, which is 40 minutes long, and there's everything to it but some people might think that there's nothing to it at all. It's a particularly abstract film. For years I've been troubled by abstraction and I feel at the age of 51 I've been able to entertain a moment at which it's possible to actually say, "Well, why not?" So there are no pictures and it's like a kind of an aural visual sphinx.
CS And sorry, it's a film and a music work in one?
CWE The film and the music are made completely separately. Florian does what he does and I do what I and then we meet in the middle somehow at a point at which we both press play at the opening night. So it's a bit of a dare.
Francesca von Habsburg This is what attracted me to the project immediately: an opera where the libretto doesn't know that the composer is doing and vice versa. In a sense it is a film and a piece of music, but it's a completely abstract work.
CS What did you expect when you commissioned Cerith?
FVH Cerith, who is one of the most important artists in the world today, said: 'Francesca, can I do absolutely what I want to do without any interference from your side whatsoever?' It took me half a breath to answer: Absolutely you can do whatever you want.' And that freedom is something you don't give to somebody you don't know, love, and trust you want to take huge leaps of faith together. That is the essence of collaborative work and it is the trademark of T-B A21.But we're breaking the rules of opera as we go along which is just a by-product if you will. And even though I am not going to spoil your experience by giving anything away, I will say that what I saw of Cerith's film brought me to tears. It is truly, truly beautiful.
CS Have you known each other since St. Martin's then?
CWE We all met at the same time, all of us.
GM When we were all young lads
FVH Yep.
CWE Yeah, soft on the lad please thank you. I was never a lad.
GM Were you a lad?
FVH What? Me?
CWE Of course she was a lad. She's always been one of the lads. But this piece in Venice comes out of all of this complication and continuity and contagion and the will to create something fresh and different and weird . I was in St. Martin's and I saw the Sex Pistols play. That changed by life - every single person has an event, which somehow alters his or her view of the world.
FVH I once stumbled into the Whitney Museum I walked into this fantastic show of minimalists and Carl Andre and Judd and it changed my life entirely I walked around the show, lost in the Whitney for 3 hours, wandering through this exhibition and it completely, changed my entire perception of what I thought I liked and understood and appreciated. Another one of those moments was when Cerith first showed me his film. He said " I don't know if you're going to go for this one because it's very, very radical .".When you are exposed to something els;that is totally great and doesn't need to be explained, that is very very special
CWE Well I dared myself to do something that was just so extreme. It's extreme in the way of how it's possible to look at something I want the person who looks at this to spend some time in it and with it without just it being conventional psychiatric support. But really almost nothing happens, almost nothing.
GM Yeah I'd like to see it.
CWE You'll be bored, you'll be in love, and you'll be stimulated.
CS Never the three have been put in one sentence I don't think.
FVH Oh it's the way most men describe their women, come on.
GM You said it, I didn't.
CS Why the name No Night no Day Cerith?
CWE It's called No night No day, after my favourite film by Peter Gidal, which has no picture, no recognizable image. So you'll be sitting there watching my film -and it really will irritate a lot of people because they will be thinking: 'is that a face, is that a body?' But no, there's absolutely nothing. It's really just shades. I'm close to the point where as John Cage says, 'I have nothing to say and I am saying it.' But it's really not a revival of that but in a way I really feel that I am in touch with a strange intimacy which is an open mesh of possibilities, gaps, overlaps, dissonances and resonances, lapses and excesses of meaning.
CS And why now?
CWE I think now is about the time to say let's not do pictures anymore. I've had enough of photography. I've had enough of Chinese sculpture. It's an experiment. I'm not expecting any return from it. I'm just thinking this is what I want to do, No night No day, let's see. It's like I've made a painting.
FVH But it's something we both needed to make with Florian.
CS Is there any kind of underlying theme?
CWE Of course. There are many, many. It's about all of us in a funny way. Come and enjoy it fort the actual grain and texture or its actual making.
CS How would you describe the general theme of your work?
CWE I'd describe it as romantic existentialist -camp, punk rock, fuck 'em all, dress up, and work against the pressures of the death machine, live responsibly, live ethically, live romantically and be as fantastic as possible.
CS That's good.
CWE I thought you'd like that.
GM I do.
FVH I think we all agree on that.
ADDRESS
Teatro Goldoni
San Marco Fondamento de la Fenice 2554
30100 Venezia
Italy