Nick Waplington's latest book 'Settlement' provides a poignant view of family life in the West Bank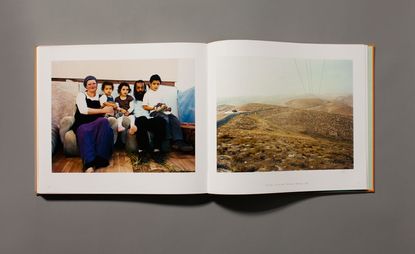 (Image credit: TBC)
The landscape of the West Bank has become an all too familiar backdrop to the news in recent years. From 2008 to 2013 British photographer Nick Waplington was working there and his resulting book 'Settlement' weaves together two very different sets of photographs.

On the one hand he presents the landscape of the world's most disputed piece of ground, where barren, elemental mountain country dwarfs shantytown-like settlements, as well as good new roads and infrastructure.

By contrast, on every other page there is a formally arranged but relaxed family portrait: mostly traditional, happy family units with mum, dad and kids. Everything about the portraits and their subjects is rather lovely. They have sympathetic faces, radiate health, normality, and close family ties. There are small clues that give away the personality of the subjects – a guitar or a tidy garden. Some men wear the Kippah, but others wear a quirky sunhat, and nothing suggests class barriers, prejudice or religious conservatism. It's almost utopian.

These families are the 'settlers' of the book's title - Jewish settlers who form less than 20 per cent of the population in the West Bank. Their settlements are illegal under international law, and their existence is not as passive or as peaceful as it looks (consider the three Israeli teenagers killed earlier this year and the bloodshed since). In appearance these are highly sympathetic portraits – good people living simple lives. But there is something deeply critical about them too.

In 'Living Room', the 1991 series that made his name, Waplington showed us how two large working class families were making the best of a very difficult time in Thatcher's Britain. By observing their chaotic lives with startling honesty, warmth and humour he turned the working class slob into a kind of hero. But most importantly he made real, complex beings of a social group lumped together in the press. By doing so he presented a universal truth: nobody is perfect, but most families are pretty much the same, making the best of their circumstances.

This latest book is the best and most political body of work he's made since. But the implication is almost the reverse of what was being said in 'Living Room'. Here, Waplington is showing how all families are worlds within worlds; they turn inwards to create safety and comfort. Again, it's a universal story. We make our homes wherever we consider it our birthright, and we're all guilty of turning a blind eye to what goes on outside our front doors.
Receive our daily digest of inspiration, escapism and design stories from around the world direct to your inbox