Milan's 2014 MiArt fair highlights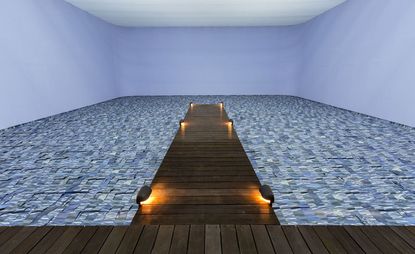 (Image credit: press)
HangarBicocca

MiArt activated 30 public-art institutions across Milan, including the mammoth Pirelli HangarBicocca, which opened a powerful new show dedicated to Brazilian artist Cildo Meireles (running until 20 July). Curated by former Tate Modern director Vincente Todolí, the ambitious exhibition features 12 large-scale installations, from the 1970s to the present day, composed of glass, bones, books and coal, among other materials. The cavernous space and soaring ceilings are a natural environment for Meireles's oversized works and allow rich interaction with visitors. The eight-metre Entrevendo wood funnel can even be climbed into.
Palazzo Reale

In the centre of town, meanwhile, Milan's historic Palazzo Reale features works by Italian artist Piero Manzoni (pictured) in an exhibition that runs until 2 June. Manzoni's most famous installation - his 90 cans of packaged 'poop' known as 'Merda d'artista!' - took centre stage alongside 130 works completed before his death 50 years ago. Also at the palace are long-running exhibitions dedicated to Klimt and Kandinsky.
PAC
The revamped Padiglione d'Arte Contemporanea (PAC) opened its exhibition season during MiArt with a solo show and site-specific installation by artist Regina José Galindo (running until 8 June). The Guatemala-born artist, recipient of a Golden Lion for best young artist at Venice's 51st Biennale, presented an anthological look at her performance art over the last decade. Divided into five sections - politics, woman, violence, organic and death - the show dove into the artist's preoccupation with the human body.
Peep-Hole/ Stilicone Art District

Located in the north of the city, Via Stilicone has for decades been home to Fonderia Battaglia, a massive bronze foundry known only to artists and top architects. More recently, however, the area has taken a decidedly arty bent, with Peep-Hole gallery moving in upstairs and Galleria Lia Rumma popping up across the street. During MiArt, the rusty and fiercely private doors of the foundry were creaked open for visitors to get a glimpse of the work that goes on in the towering workshops beyond. Meanwhile, Peep-Hole hosted a show by Uri Aran (whose sho 'Puddles' - running until 3 May) is pictured); Mousse Magazine featured Cathy Wilkes and Lia Rumma held a show for David Lamelas.
Independent Galleries

Top contemporary art galleries launched new shows. Massimo De Carlo debuted Josh Smith; Lia Rumma exhibited David Lamelas; Lisson Gallery hosted Ceal Floyer ('Walking a line for a walk', 2008, pictured); Monica de Cardenas launched Tanja Roscic; and Gio Marconi hosted Amelie von Wulffen.
Kaufmann Repetto

Pae White's '…and then you know what?' is Kaufmann Repetto's fifth exhibition of the Los Angeles-based artist and features a neon light installation originally built for London's Gloucester Road tube station. Though it appears as a range of pastel colours, the hues are actually 14 different shades of white. The exhibition includes White's striking glass toy chess set and a series of giant metal thread tapestries.
Trussardi Foundation

The Fondazione Nicola Trussardi is one of the few art institutions in Milan that consistently serves up top-shelf art programmes. Helmed for the last decade by Massimiliano Gioni, the foundation exhibited work by a trio of artists - Stan Vanderbeek, Jeronimo Voss and Katie Paterson - in a programme co-curated with Vincenzo de Bellis, MiArt's artistic director. Gioni and de Bellis mined their work for a string of interactive video performances at Milan's Planetario Ulrico Hoepli, a 1920s structure built by Piero Portaluppi inside the Giardini Pubblici. For three consecutive evenings, the planetarium functioned as part theatre, part gallery and part mad science lab. The programme, titled 'Cine Dreams, Future Cinema of the Mind', opened with the 1972 work of American film artist Stan Vanderbeek, whose 21 film mélange was projected against the ceiling of stars. The projections lasted a marathon eight hours, but guests were able to camp out for the night with pillows and blankets.
MiArt Fair

Though plenty of action was taking place on the streets of Milan, the heart of MiArt was in the city's ex-fiera fairgrounds. Nearly 150 galleries from 20 countries participated this year. And a schedule of lectures and conversations was curated by Edoardo Bonaspetti from Mousse Magazine and the independent curator Maria Didero.
MiArt Object

Like last year's edition, MiArt 2014 featured a selection of design galleries curated by Federica Sala. London's Gallery Libby Sellers (pictured), presented a preview of Formafantasma's De Natura Fossilium lava-rock project, which will officially debut during the Salone del Mobile next week. Several other strong local galleries - Erastudio, Luisa Delle Piane, Design Gallery Milano - presented a mixed offering of contemporary and mid-century design.