Michele Mathison uproots South Africa's historical symbols at Tyburn Gallery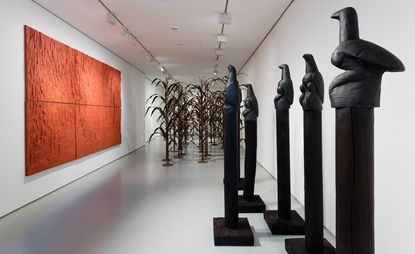 (Image credit: © Michele Mathison. Courtesy of Tyburn Gallery)
The Johannesburg-based artist Michele Mathison makes symbolic play with the potential and the potential plenty of southern Africa. The centrepiece of Uproot, his new exhibition at the Tyburn Gallery in London is Plot, a small, but life-sized tall, crop of maize crafted in steel.

Maize is the staple food of the South Africa and, in a good year, one of its major exports. It is grown on a huge scale in the 'Maize Triangle' and on smaller and domestic plots. The piece is given extra, perhaps unexpected, charge though by a catastrophic drought in South Africa which has devastated the country's maize crops. The South African government said that it will actually have to import tons of maize this year.

From agribusiness to subsistence crop, a small claim on the land and a failed harvest, maize is political in South Africa and Mathison's maize comes off as monumental.

Mathison spent most of his childhood in Zimbabwe and another piece Chapungu, Shiri yedenga is a series of metal recreations, set on plinths, of the stone-carved Zimbabwe birds. They were originally produced by the Shona people and placed on the walls of Great Zimbabwe in the 13th and 14th century. The ruins of the city were 'discovered' by European colonialists in the 19th century and five of them found their way into the hands of Cecil Rhodes; British arch Imperialist, one-time Prime Minister of the Cape Colony, founder of the De Beers diamond company and thoroughly bad egg. Four of them were repatriated to Zimbabwe following independence in 1980 and the bird is now the country's national symbol. One though remains at Rhodes' former home in Cape Town.

Rhodes' statue at Cape Town University has just been removed, and debate rages about his monument at Oriel College, Oxford. Mathison's birds though are more than reclaimed colonial plunder. They are powerful forms, a long way from home, another migration.
INFORMATION
Michele Mathison: Uproot runs until 19 March 2016. For more information, visit the Tyburn Gallery website (opens in new tab)
ADDRESS
26 Barrett Street
London W1U 1BG
VIEW GOOGLE MAPS (opens in new tab)