Colour and form: Matthew Ronay's vivid sculptures pitch up at PAMM in Miami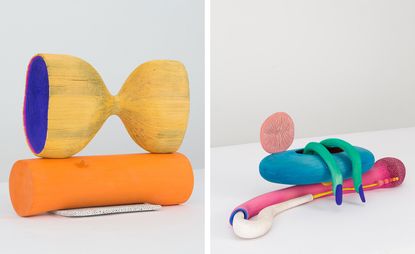 (Image credit: The artist and PAMM)
Palm trees and ocean breezes set the stage for the latest work by Matthew Ronay, When Two Are In One – a new site-specific installation due to take over the sprawling windows of Pérez Art Museum Miami's Patricia Papper Project Gallery this week.

Situated next to the museum's entrance, visitors to the Miami museum will be greeted by an eruption of vivid colour, as brightly hued sculptures with names like Double Penetration and Divided Egg Green Worm cluster behind the window-lined front gallery.

The installation features a series of 11 large structures arranged along a long, low plinth. Each meticulously hand-carved, the pieces are a combination of basswood, plastic, steel, dye and gouache, resulting in cheerful, playful shapes — from stacked towers to misshapen orbs.

'Matthew Ronay's work is distinguished by its unique approach to ideas and forms, and to the dialogue it engages across the geographies and temporalities of art history,' says Diana Nawi, an associate curator at the museum. 'We are thrilled to have the opportunity to commission new work from such an exceptional artist, one whose practice is continually moving in new and interesting ways.' Leading up to the exhibition, Ronay was encouraged to spend time in the gallery and to create something in response to the space.

The forms draw their inspiration from biological structures and their reproductive and evolutionary processes – a hallmark of Ronay's practice. Bright colors and shamanistic symbols are another motif familiar to the New York-based artist, who takes pages from psychedelia and surrealism, as well as folk and non-Western art.

The installation will also serve as the backdrop for Ronay's own band, LOBOTOMAXX, a collaboration with fellow artists Tony Cox and Nathan Carter, who are slated to perform in the space later this year.
INFORMATION
When Two Are In One is on view until 15 January, 2017. For more details, please visit PAMM's website (opens in new tab)

Photography courtesy of the artist and PAMM
ADDRESS
Pérez Art Museum Miami
1103 Biscayne Boulevard
Miami, FL 33132
VIEW GOOGLE MAPS (opens in new tab)