Martine Franck comes under the spotlight at Fondation Henri Cartier-Bresson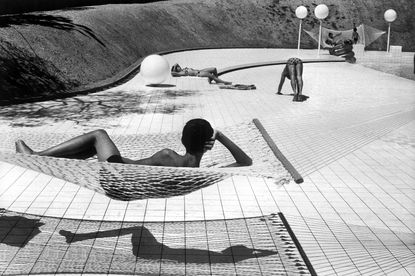 (Image credit: © Martine Franck / Magnum Photos)
Agnès Sire, the artist director of Fondation Henri-Cartier Bresson, worked with Martine Franck before the photographer's death in 2012 to select the images for a retrospective at the Paris foundation's new home in Le Marais. 'I don't think she ever thought that we would open the new foundation with her work, she was very modest,' says Sire.

The survey gives a taste of the many strands of photography that Franck pursued during her career, including documentary reportage, portraiture, landscapes and travel. Contained within the archives at the foundation, her work – along with that of her husband Henri Cartier-Bresson – is now available to scholars, researchers and visitors in a magnificent building restored by Novo Architects.

Born in Antwerp, Franck grew up in the US and England, later studying art history at the University of Madrid and École du Louvre in Paris. Photography began by chance after her cousin lent her his Leica to take with her on her extensive journeys through Asia. Upon her return to Paris in 1964, she became a photographic assistant at Time-Life and her career took off. She was a founding member of Viva agency and later joined Magnum Photos – one of the few women to be accepted in the agency.
Describing her relationship with photography, Franck once mused: 'I feel concerned at what is happening in the world, and involved in what surrounds me, I do not wish merely to "document". I want to know why a certain thing bothers me or attracts me, and how a situation can affect the person involved. I am not looking to create a situation and I never work in a studio. Instead, I try to understand, to grasp reality. In photography, I have found a language that suits me.'

Franck was not only deeply curious about the many aspects of humanity, but also expert at finding new dimensions in the tension between figuration and abstraction, light and shadow. Her work is subtle, informed and immaculate. A master of composition, she delighted in achieving layers of depth in her shots, using naturally occurring patterns in the background that lead the eye through the image to one or several focal points.

As we discuss Franck's work in the new exhibition space at 79 rue des Archives, foundation director François Hébel describes Franck as an almost accidental photographer who simply used a camera to follow her curiosity and find her voice. I can't help but suspect that this comment, rather like the photographer, is charmingly understated.
INFORMATION
'Martine Franck – A Retrospective' is on view until 6 February 2019. The exhibition will be shown at the Musée d l'Elysée in Lausanne between 20 February – 5 May 2019, and at the FotoMuseum in Antwerp between 28 June – 6 October 2019. For more information, visit the Fondation Henri Cartier-Bresson website (opens in new tab)
ADDRESS
Fondation Henri Cartier-Bresson
79 rue des Archives
75003 Paris
VIEW GOOGLE MAPS (opens in new tab)