Love Me or Fuck Me..., London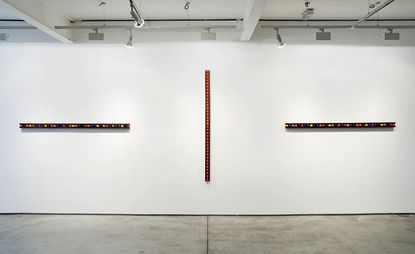 (Image credit: press)
Taking his cue from modernists, minimalists and monumentalists alike, London-based artist Cedric Christie's latest show, Love Me or Fuck Me but don't do both, is an elegant unlacing of esoteric artistic values - with a generous dollop of irony to boot.
Decking out the whitewashed surrounds of London's Flowers East (opens in new tab) gallery with his large-scale, wall-based sculptural work until the middle of November, Christie's exhibition straddles the boundary between high-art and commodity with expert dexterity.
Practicing as a welder prior to his art world calling, Christie puts his hands-on pedigree to good use for the show, employing found objects ranging from plastic pipes to snooker balls, and brickwork to scraps.
Fascinated by the fluid boundary between art and the ordinary, Christie's compacted pink oldsmobile - transformed into a wall mounted 'painting' - is an articulate exposition of Christie's off-kilter artistic agenda.
All at once a two-dimensional artwork and a worthless addition to the scrapheap, Christie subverts the notion of the artist as alchemist with this gentle poke at overwrought modernist values.
The 'Pink Painting' - when taken with the swooping snooker ball-filled curves of Christie's industrial sculpture 'Phoenix', and the hanging banality of his gas-station-style light box advertisements - encapsulates Christie's somewhat irreverent approach to his art.
Subtle, funny and erudite - despite his valiant efforts to 'bring down' high art - Christie's latest outing can't help but lodge his pin even more firmly into the art world map.
ADDRESS
82 Kingsland Roac
London
E2 8DP
VIEW GOOGLE MAPS (opens in new tab)