A new show by artist Lorna Simpson summons fire, ice and history in reverse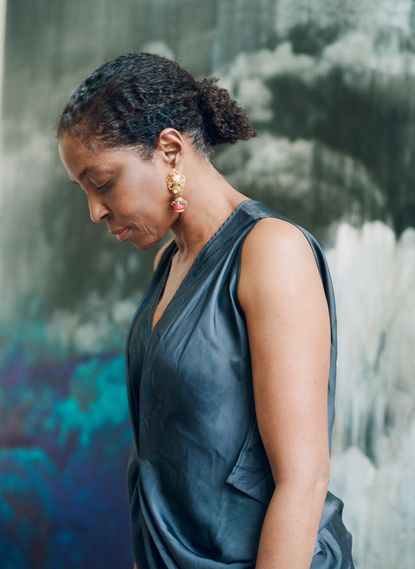 (Image credit: Rachel Chandler)
Wallpaper* Newsletter
Receive our daily digest of inspiration, escapism and design stories from around the world direct to your inbox
Thank you for signing up to Wallpaper. You will receive a verification email shortly.
There was a problem. Please refresh the page and try again.
Lorna Simpson can't quite say where her practice is heading. 'I don't know,' she exclaims with a big belly laugh, a frequent register for the artist. 'And maybe that's my response to even having a response to the work.' Don't think for a minute, though, that Simpson is somehow lost or unsure of her position. If almost unassuming in her public profile, particularly in comparison to many of her more flamboyant contemporaries, Simpson is definitely in the top tier of contemporary American artists.

Simpson rose through the ranks as a conceptual photographer in the 1980s, and has impacted the medium with her particular use of text, eventually also branching out into video. Both the Whitney Museum of American Art and the Walker Art Center picked up on early Simpson work, subsequently revisiting her mid-career, and she was the first African-American woman to exhibit at the Venice Biennale, in 1990.

For the last three years or so, Simpson has swapped her camera for found photography. Images are culled from the Associated Press, as well as pioneering African-American periodicals Jet and Ebony, then incorporated in paintings, a medium that she debuted at the 2017 Venice Biennale. 'All this painting that I'm doing is closely related to photography,' she says. Simpson first silkscreens these found images onto fibreglass panels before gessoing and washing them in colourful expressions of paint. She insists, though, that this process is not aimed at photorealism. 'I'm not trying to talk about photography through the medium of painting.' Nor is it an effort to summon the classical muses. 'I don't know what [classical painting] is,' she cracks, 'and I don't think I want to know.'
Her latest paintings, as well as new collages and sculptures, appear at a show opening 1 March at Hauser & Wirth in London. She signed with the gallery last April, a move that prompted her to 'think more ambitiously about what I want to do. It was a great fit in terms of how I saw myself as an artist, and in assisting me in what I want to accomplish next at this point in my life.'

'It is clear that she is an artist who continually evolves,' says Iwan Wirth, one of the gallery's founders. 'I believe that Lorna is a central voice in a generation of American artists. For me, the work is so compelling because she confronts the personal and public significance of past and current events while taking an intellectual approach to a variety of media.' 'I always think in series, not individual works,' says Simpson. And the new works build on an installation she presented at Frieze New York last year. 'I didn't want to make Frieze just a one-off. I wanted to mine that work.'

Reflecting on the past two years, Simpson notes that 'the landscape of my personal life and the landscape of the world that we're living in now – and not to be a fatalist or victim – certainly has had an intensity to it.' One night recently, Zora, her 18-year-old daughter with fellow artist James Casebere and something of a social media it-girl, read her a passage from The Secret History by Donna Tartt and the word 'unanswerable' jumped out. 'I feel it doesn't get used very often.' It connotes, she says, 'silence, and the posing of a question that, in its context or premise, makes no sense. There's no answer, not because it's "unanswerable", but the nature of the question makes it unable to be answered.' That's the schism, possibility, and liminality in which Simpson finds stable ground. And it gave the new exhibition its title.
Included in 'Unanswerable' is a photocollage of a gussied-up African-American woman with a vivacious, joyful smile, whose silvery gown melts into an iceberg, as well as a large-scale sculpture, a snowball cast in plaster with a pensive African-American woman perched on top.

Simpson's collages remix and reimagine a range of female representation, especially of black American women. 'I think the collages will confirm that I'm crazy!' she says, erupting again into voracious laughter. 'They are detached from the content or from the thing they were supposed to represent,' she explains, and by employing archival material, 'it's not nostalgia, but rather an alignment of how similar what we are living now is to parts of the American past that aren't that long ago. A compression of time.'

Simpson's grand debut at Hauser & Wirth was to be titled Black & Ice and, indeed, some of the larger works – the biggest 12 ft by 8.5 ft – feature cyan ink-washed glaciers and icebergs seemingly adrift in the panel itself, detached and unexplained. 'All these natural forces in peril at the same time,' Simpson says. 'To me, it's not so much an environmental thing as society, in particular America, being in peril in countless ways. It's overwhelming, but not new. It's a return to a past. There's a lot still going on that's the same in terms of racism, bigotry and the whole shebang.'
Regal and approachable, at 58, Simpson appears ageless, a quality reflected in her work, too. From her poetic photography of the 1980s – such as Waterbearer (1986) or Five Day Forecast (1988), black-and-white faceless portraits of African-American women with accompanying text-based inscriptions – to her latest pieces, her works are powerful metonyms of systemic institutional racism and sexism. They read as vital and visceral critiques of things as they still are, though she began producing them 30 years ago.

Simpson is an African-American female artist who delves into aspects of her personal biography without making her work explicitly about her. 'People have always said to me, "Is that you in the work?",' to which Simpson rolls her eyes. 'How I create art is really important for my personal life and how I get through the world,' she reveals, but 'it was a purposeful thing to leave myself out of the narrative.'

She works in two Brooklyn studios, one designed by David Adjaye and built in 2009, the other a recently acquired raw space, with 60 ft walls, designed by local architects Bergen Street Studio. Simpson wanted to be able to alternate between areas that are 'completely rough' and those that are 'tricked out'. It's still the Adjaye studio that feels like her creative safe place, though, a space she is 'very emotionally attached to,' she says. 'We were able to create a space that spoke specifically about her own work process,' says Adjaye. Here, Simpson has 'the feeling of freedom that I can make whatever I want. And there are so many other things to worry about than curtailing my imagination. Without that, life's quite sad and without joy.'

As originally featured in the March 2018 issue of Wallpaper* (W*228)
INFORMATION
'Lorna Simpson: Unanswerable' is on view from 1 March until 28 April at Hauser & Wirth. Lorna Simpson Collages, $30, published by Chronicle Books, is available from May
ADDRESS
Hauser & Wirth
23 Saville Row
London W1S 2ET
Receive our daily digest of inspiration, escapism and design stories from around the world direct to your inbox
Julie Baumgardner is an arts and culture writer, editor and journalist who's spent nearly 15 years covering all aspects of art, design, culture and travel. Julie's work has appeared in publications including Bloomberg, Cultured, Financial Times, New York magazine, The New York Times, Wall Street Journal, as well as Wallpaper*. She has also been interviewed for The Atlanta Journal-Constitution, Miami Herald, Observer, Vox, USA Today, as well as worked on publications with Rizzoli press and spoken at art fairs and conferences in the US, Middle East and Asia. Find her @juliewithab or juliebaumgardnerwriter.com