KesselsKramer's book of Useful Photography #008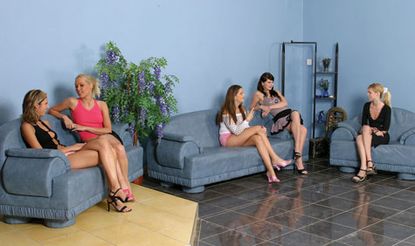 (Image credit: press)
Pornographic material doesn't often make the cut on wallpaper.com, but we made an exception for KesselsKramer's 8th volume of found photography.
See more from Useful Photography #008
Useful Photography #008 takes the clothed pictures from porn shoots, the ones that, in the flimsiest sense, set the scene for the ensuing carnal pursuits. In their original context of course, they're barely given a second glance, but it'd be impolite to get straight down to business without a more formal introduction, however cursory.
Grouped together, and away from their ruder consequences, they tell a different story; one of clashing colours, ill-fitting clothes and unlikely props. If you didn't know the premise behind the project you'd think it a momentary lapse of madness in Erik Kessels' ingenious creative agency.
Knowing, albeit not seeing, what comes next makes for humorous viewing, still not totally devoid of the tension the originals were intended to drum up. Although clothed it doesn't take much to guess what a man carrying a pizza box with 'big sausage' scrawled on it might get up to next.
Recontextualising found photographs and curating them into books and exhibitions is Kessels' speciality. Useful Photography #008 is the eighth title in the popular series; previous subjects include missing persons' photographs, amateur trophy winners and professional trade images of cows.
Alongside the book's release, KK Outlet, KesselsKramer's London bureau and shop, is hosting an exhibition of the originals.
ADDRESS
KK Outlet
42 Hoxton Square
N1 6PB
Receive our daily digest of inspiration, escapism and design stories from around the world direct to your inbox