Kerry James Marshall donates first portrait, of Skip Gates, to Fitzwilliam Museum, UK
Kerry James Marshall's portrait of the literary critic, writer and filmmaker is his first of a real, rather than an imagined, sitter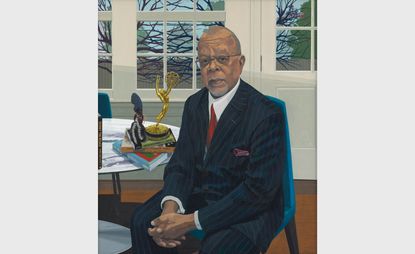 (Image credit: © Kerry James Marshall Courtesy the artist and David Zwirner, London)
American artist Kerry James Marshall has donated a portrait of his friend, the literary critic, writer and Emmy-winning filmmaker Henry 'Skip' Louis Gates Jr to the Fitzwilliam Museum in Cambridge, UK, where Gates attended university in the early 1970s. Gates attended Clare College and his experiences there altered the course of his life, changing his ambitions from becoming a medical doctor to a literary critic.
The painting is a first for Marshall in that he does not make portraits – his figures are made from imagination, painted in black paint. His works are at once paintings and conceptual pieces, making statements about colour, representation and the multifaceted nature of Blackness and personhood in relation to histories of omission. It is for this reason that he has painted Gates 'as he is', true to his skin tone, making this painting unique in his oeuvre.
At the Fitzwilliam Museum for the recent unveiling of the work, Marshall and Gates reflected on what brought them to this point.
Kerry James Marshall and Skip Gates on the portrait
Gates, the first Mellon Scholar to attend the University of Cambridge, had been given an honorary degree by Clare College in 2019, and white attending the ceremony, saw a black and white portrait of himself hanging in the student common room. He thought, 'Wouldn't it be wonderful if there could be one in colour.'
Gates got in touch with Thelma Golden, director and chief curator of The Studio Museum in Harlem, New York, for advice. 'I called Thelma and I said, you know, I really love Cambridge, and I'd like to do something for them. Who do you think would be ideal to do a portrait among contemporary African Americans?' recalled Gates. 'She said that if you could get Kerry James Marshall to do your portrait, it would be the cool cruise – and I knew him, loved him, we're very good friends – and she said, much to my surprise, [that] he's never done a portrait of a real person.'
Today, Gates is the Alphonse Fletcher University Professor, the director of the Hutchins Center for African and African American Research at Harvard University, and a documentary maker of great renown. When he reached out to Marshall to ask if he would paint a colour portrait of him, Marshall said it was not the type of thing that one could refuse. He accepted the task, which is likely to be his only portrait.
'When I make a picture, I'm building a picture, using all of it, using everything I learned, from looking at Leonardo da Vinci and looking at Michelangelo. I'm looking at every other artist that made a picture in the grand tradition of portrait painting,' Marshall said of his process. 'I'm looking at what is it that makes a picture of meaning, [what makes] a painting a picture, or a picture of painting. I'm making a picture that is as solid and as tight and as well put together as [it] possibly can [be].'
In the captivating portrait, sitting next to a selection of his texts, chosen by Marshall, and one of his many Emmy awards, Gates emanates a calm intellectual rigour. 'When he called, it was a no brainer,' said Marshall. 'I mean, this was not something you could say no to. [He described] the history of his relationship with Cambridge, and meeting [Nigerian playwright and novelis] Wole Soykina and [philosopher and writer] Anthony Appiah… following in the footsteps of people like [sociologist] WEB Dubois.'
Adds Marshall, 'Skip Gates is the Dubois of my generation. He made being an intellectual really seem like it was something important to be, something to aspire to and that was achievable.'
The portrait, Henry 'Skip' Louis Gates Jr, 2020, now hangs in the Fitzwilliam Museum, Cambridge, which is free to the public.
Receive our daily digest of inspiration, escapism and design stories from around the world direct to your inbox