Katharina Grosse steeps Carriageworks in a cacophony of colour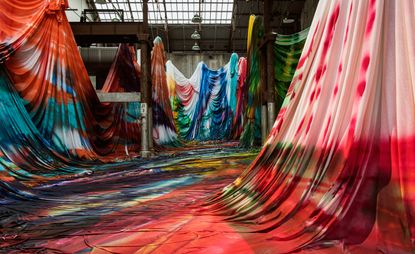 (Image credit: Courtesy of The Golden Mean)
A sense of stilted awe permeates one's initial reaction to Berlin-based artist Katharina Grosse's installation, The Horse Trotted Another Couple of Metres, Then It Stopped, newly unveiled in Sydney's Carriageworks. The third in the Schwartz Carriageworks series of major international commissions, the work is suspended in the lofty foyer of the industrial-style multi-arts centre, with over 8,000 sq m of draped, knotted and folded white theatre cloth crammed into the rustic space like an inverted circus tent absorbing structural elements of the building.

Touches of grandeur appear where perfect puddles reminiscent of velvet curtains framing a classical theatre's proscenium arch allude to the spectacle that lies within. Those familiar with Grosse's kaleidoscopic works that went 'off frame' in the late nineties to visually contaminate architectural façades, interiors and natural surrounds are gently teased by the slashes of colour sprayed and seeping through the dense cloth.
Theoretically flipping her practice by containing an area as opposed to painting one that both invades and leaks into surroundings with no definitive frame, Grosse explains that 'the folds compress the volume like crumpling a canvas into a space'. She says, 'I was interested in taking this vast surface and shrinking it by folding or, actually, hiding the entirety of what's there.'

Entering the work through a slitted entry, immersive psychedelic colour – also underfoot on the heaped and heavily wrinkled cloth floor – arrests your senses with hallucinogenic power. It's like stepping into an all enveloping multi-dimensional abstract painting. 'I'm very interested in a tactile surface; it talks to your visceral system and creates more empathy in you as you're curious about what's under a surface,' adds Grosse in reference to encouraging viewers to physically investigate crinkles and folds by touch. 'It's a great metaphor for all in our lives and looking at experiences for different meanings.'
Like a calculated epic tie-dye experiment, over twenty blaring shades, both dense and lightly bruised, are sprayed in frenzied arcs, zig-zag ribbons, and what Grosse calls 'sips and drips', creating further layered (and illusionary) dimensions. Her spray-gun extension permits up to 6m coverage, resulting in pixelated overspray 'like dust particles' towards the rim of the fabric, a technique she has perfected since introducing voluminous fabric to her work in 2014.

Grosse painted the suspended cloth over eight intense days, claiming that her choice of colours – mostly primary shades highlighted by Klein blue plus neon orange and yellow – were intuitive, her choice of saturation being determined by the natural light entering the building. Once dismantled, all evidence of the intensive activity of the on site fabrication and Grosse's painterly application will disappear without a trace of colour splashed upon a single hard surface, as if by magic. All that will remain is empty, measurable space.
INFORMATION
The Horse Trotted Another Couple of Metres, Then It Stopped is on view until 8 April. For more information, visit the Carriageworks website (opens in new tab)
ADDRESS
Carriageworks
245 Wilson Street
Eveleigh NSW 2015
VIEW GOOGLE MAPS (opens in new tab)