Unseen and intimate portraits of Kate Moss revealed in new Mario Sorrenti book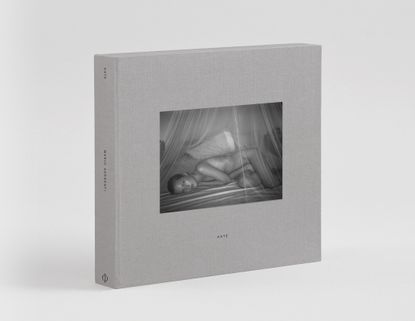 (Image credit: Photography by Mario Sorrenti)
The year is 1993; the hot movies are Jurassic Park and Groundhog Day while the pop charts are buzzing with debut album releases by newcomers Bjork, Radiohead and Suede. The state-of-the-art automobile of the moment is the Citroen Pallas, upstart tech outfit Apple has recently launched its revolutionary Newton gizmo and Kate Moss, from Croydon, England, on the brink of attaining bonafide supermodel status, is just 19 years old.
A new luxuriously packaged book from Phaidon entitled simply Kate is a collection of 50 portraits of a young Moss taken by her then-boyfriend, photographer Mario Sorrenti back in 1993. Moss was to become Sorrenti's muse, following in a long line of artist-muse relationships such as Alfred Stieglitz and Georgia O'Keeffe, Robert Mapplethorpe and Patti Smith, and Irving Penn and Lisa Fonssagrives.
Many of the book's images have never been seen or published before. Here's Kate asleep, Kate playing on her Nintendo Gameboy, Kate showering, reading, smoking, and wearing her boyfriend's Y-fronts. She's make-up free, uncoiffed and happily, casually naked or half dressed, in pretty much every frame. Surroundings are idyllic and modest, actions unguarded, sweet and endearing. Calvin Klein saw the commercial potential of Sorrenti's pictures of Moss and signed him up for a memorable 'Obsession' campaign. Photographer and muse became international fashion superstars.

Sorrenti, the book's introduction tells us, had first met her in 1991. 'I remember sitting next to her and feeling like my heart was going to stop her beauty overwhelmed me.' Accordingly, his pictures – all dreamy, Penn-ish black and white, all apparently spontaneous and intimate to the point of voyeuristic intrusion – capture the magic intensity of a young man and woman in love. Every delicate picture evokes a tacit sense of playful trust between photographer and subject. You feel like you are playing gooseberry just by looking at them.

Who but Kate Moss can make the act of pegging clothing to a washing line – completely starkers, naturally – look like a fashion moment?
INFORMATION
Kate, £79.95, published by Phaidon. Mario Sorrenti will be in conversation at the National Portrait Galley, London, on 14 September at 7pm, apply for tickets here