Artist Julianknxx on poetry, dreams and Switzerland
Ahead of the New York showing of his major new film with Switzerland Tourism, we visit the studio of London-based poet and filmmaker Julianknxx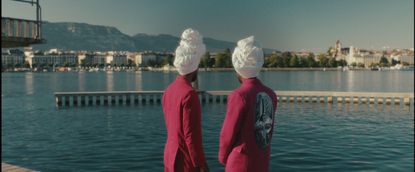 (Image credit: TBC)
Wallpaper* Newsletter
Receive our daily digest of inspiration, escapism and design stories from around the world direct to your inbox
Thank you for signing up to Wallpaper. You will receive a verification email shortly.
There was a problem. Please refresh the page and try again.
'I enter most of the work that I create through a poem and my lived experience,' says poet and filmmaker Julianknxx, who currently has work in shows at the Utah Museum of Fine Arts and London's Whitechapel Gallery. In his London studio at 180 The Strand, the artist has just given me a taster of a newly commissioned film, which will be exhibited from 9 – 11 September 2022 at Foley Gallery on the Lower East Side, New York. With the work, 'I was thinking about who I am in dialogue with, and what I would I say if I could have a conversation with them', he explains.
Earlier this year, the Sierra Leone-born artist was invited by Switzerland Tourism to research and create work in four major Swiss cities: Zurich, Geneva, Basel and Lausanne. The artist first went out to conduct research over a period of ten days, before returning a month later to shoot. The resulting installation, In A Dream We Are At Once Beautiful, will take shape as a two-channel widescreen film, weaving together evocative vignettes of characters and locations throughout the country. 'When you go somewhere, even if you're doing the exact same things [as someone else], you experience that place very differently,' he says. 'On the one hand, beauty is discovered, on the other, it's something we create or dream up. When you're experiencing a built environment, the question then becomes: "Whose dream is this?"'
If you were expecting typically Swiss scenes of snow-capped mountains and sweeping aerial views bejewelled with grey-green lakes – think again. Instead, Julianknxx turns his lens on hidden pockets in each city, as his protagonists move through a church bathed in stained-glass light, the concrete curves of a car-park ramp, or along the Limmat river. There are surreal medleys of the natural landscape and urban details, woven together slowly and gracefully. The film – which will be presented in a darkened room with glossy green floors mimicking the rivers Julianknxx has captured ('I like the idea we see a sort of reflection') – is punctuated with stanzas from the artist's poem, As Long As The Sun Lasts, and features a haunting original score in collaboration with musician Anaiis.
The artist cast locals in his film and, like many of his projects, it was a largely organic process, with most turning up on the day without knowing much about the film or having heard about it through word of mouth. 'I was fascinated by the idea of travelling to another country, that I have no connection to, to make works and find people to connect to them,' he says. 'And they were very gracious to give me that time to make work with them. My process is a melting pot, almost like back home when we cook – everything goes in.'
Julianknxx's film will take on an unexpected air as visitors come into the room for the first time. The artist has collaborated with young perfumer Ezra-Lloyd Jackson to create two bespoke scents to pair with his work; the scents will be infused into the space separately, eventually blending together in the main space where the film is being screened. 'I wanted to dream up a smell rather than recreate something specific. The thing about smell is that we experience it very differently, and if we put it on our skin – again, that's different. Ultimately, I want people to have an experience that they've never had before [in regards to] things they associate with Switzerland,' he says, before adding, 'I asked myself: "How do we dream up spaces? And how do we make space for others?" In a dream, everything is possible.'
INFORMATION
In A Dream We Are Once Beautiful, 9 – 11 September 2022, Foley Gallery, New York; switzerland.com/art
ADDRESS
59 Orchard St
New York, NY 10002
United States
Receive our daily digest of inspiration, escapism and design stories from around the world direct to your inbox