Combined forces: colour blocking with Joseph Kosuth and monochrome masters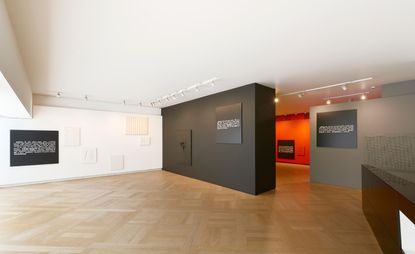 (Image credit: Courtesy of Mazzoleni)
Joseph Kosuth is inviting Londoners to take part in a cerebral spot-the-difference at Mazzoleni Gallery. In a special installation the artist has created on site, the dictionary definition of 'white' hangs next to a Lucio Fontana primordial search for colour on canvas, and tactile, perforated surfaces of translucent shades by Enrico Castellani – all hanging against the backdrop of a wall that is also painted white. Which white is the most authentic expression of white is a matter of perspective.
Known for his work with words, Kosuth's new installation recalls his 1968 First Investigations, Art as Idea as Idea, in which the artist created a series of Photostats reproducing definitions of objects and concepts, including 'chair', 'water' and 'meaning'. Riffing on this presentation, curator Dr Cornelia Lauf — who worked on several seminal Kosuth exhibitions — tackles the artist's theories on colour by recreating board-mounted definitions of white, black, red, green, yellow, violet, and of course, Kosuth's signature grey.
Of course colour isn't the only thing you see here: Kosuth's has always been concerned with the didactic experience as much as our aesthetic understanding, as an educator and as a theorist. The selection of artists (based on a proposal bequeathed by the late Arte Povera artist Emilio Prini) interrogate the nature of seeing and our perception of space – complex ideas that belie the apparently easy arrangement of this exhibition.
All the modern Monochrome Masters – Lucio Fontana, Yves Klein, Piero Manzoni and Enrico Castellani, and Kosuth himself – meet to explore the conceptual and technical aspects of these colours, reminiscent of Kosuth's own cross-generational approach to curating. As ever, text is just as important to the meaning and implication of the art works, in their time and over time, but it's not all heavy theory. As Kosuth once said, 'my work is fragmentary. I want to be able to continue to play. Not enough artists do that any more.' At 72, the artist is certainly not slowing down.
INFORMATION
'Colour in Contextual Play' is on view until 28 July. For more information, visit the Mazzoleni website (opens in new tab)
ADDRESS
Mazzoleni
27 Albemarle Street
London W1S 4HZ
VIEW GOOGLE MAPS (opens in new tab)
Charlotte Jansen is a journalist and the author of two books on photography, Girl on Girl (2017) and Photography Now (2021). She is commissioning editor at Elephant magazine and has written on contemporary art and culture for The Guardian, the Financial Times, ELLE, the British Journal of Photography, Frieze and Artsy. Jansen is also presenter of Dior Talks podcast series, The Female Gaze.