Moving mountains: Jonathan Freemantle at Cape Town's Gallery MOMO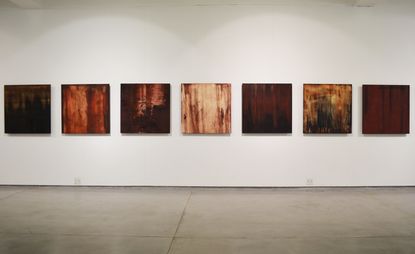 (Image credit: press)
South African born artist Jonathan Freemantle has spent time with mountains throughout his life. He was born and bred near Cape Town's iconic Table Mountain, worked near the Magaliesburg range outside of Johannesburg and meditated at a remote mountain range in Scotland surrounding the Rannoch Moor.

In his latest show at the MOMO Gallery in Cape Town, the artist channeled exactly this mountain impulse into the work – collectively entitled 'Der Heilige Berg' ('The Holy Mountain'). Freemantle found the Scottish mountains after being directed by Richard Demarco; and as it turns out, so did Joseph Beuys in the 70s, who declared it 'the last remaining wilderness in Northern Europe' (images of Beuys on Rannoch Moor are incorporated into the show).

The mountains, now on canvas, are painted from rocks, ochres and slates gathered from two of the ranges he's spent time in. Freemantle would methodically grind these materials down into powder and then mix them with beeswax, turpentine, linseed oil and Damar resin. Thus, the paintings are the mountain.

'The rest of the work is a kind of conscious process, in the same way that walking up a mountain is a process – at the end is a momentary glimpse of the sublime', said Freemantle. 'All I am doing is a conscious walk with the occasional glimpse upwards to check my path'.
INFORMATION
'Der Heilige Berg' is on view until 23 January 2016. For more information, visit Gallery MOMO's website (opens in new tab), or Freemantle's website (opens in new tab)
ADDRESS
Gallery MOMO
170 Buitengracht Street
Cape Town City Centre
Cape Town, 8001
VIEW GOOGLE MAPS (opens in new tab)