William Kentridge unpacked in dual Cape Town museum survey
A double bill across Zeitz MOCAA and Norval Foundation explores the South African artist's rich oeuvre of sculpture, charcoal drawings, stop-frame animation, multimedia works, tapestries and more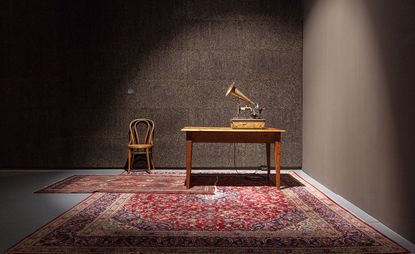 (Image credit: Courtesy of William Kentridge Studio)
South African artist William Kentridge is currently the subject of an extensive retrospective in Cape Town that is split between two new private museums: the Thomas Heatherwick-designed Zeitz MOCAA, launched in 2017, and Norval Foundation, designed by local practice dhk Architects and opened last year. Although independently conceived, the Kentridge double bill represents the largest-ever survey of this prolific Johannesburg-based artist.

The two exhibitions share the title, 'Why Should I Hesitate', with Norval focusing on Kentridge's sculptural output – hesitantly started in 1984 and definitively resumed in 2000 – and Zeitz showcasing his drawings, printmaking, films and tapestries. Nigerian curator Azu Nwagbogu, who co-curated the Zeitz exhibition with the museum's assistant curator Tammy Langtry, described his exhibition as a 'humongous and momentous exploration of 40 years of Kentridge'.
'It is a big exhibition, but it was quite tightly edited from a large number of things,' conceded Kentridge, who worked with Anne McIlleron and Sabine Theunissen on the spectacular exhibition design. Despite the remarkable amount of material on view at Zeitz, including unseen preparatory drawings and short documentaries describing how his works are made, the displays cover only half of Kentridge's total filmic output and a mere 2 per cent of his drawings.

Zeitz's poky exhibition halls have been given a makeover to accommodate the ambitious scale of Kentridge's recent work. Previously shown at the museum in a reduced form, More Sweetly Play the Dance (2015), an eight-channel video installation featuring a procession of marching figures seen in silhouette, now elegantly unfurls across all 40m of its conceived length.
RELATED STORY
The procession is a key motif in Kentridge's work. Inside Norval, the displays include a shelf arrangement of 44 diminutive figurines depicting, among other things, an aquiline nose, ampersand character and scissors, all recurring forms from the artist's recent practice. The stouter shape and design of the works in Lexicon (2018) differ from the 25 ambulant figures in Procession (2000), an important early sculpture work that hints at the influence of Alberto Giacometti.
Kentridge's interest in marches and cortèges is traceable back to a drawing titled Arc/Procession: Develop, Catch Up, Even Surpass (1990). Zeitz's show features a preparatory drawing for this important work dated 1989. It is displayed near a sombre linocut print from 1976 depicting members of Kentridge's family holidaying in Cape Town, in 1933, as well as a sampling of his fusty neo-expressionist drawings from the 1980s.
Kentridge's career is a tale of creative drift across media, notably from drawing to film, and later sculpture. Recent projects like The Head & The Load, a theatrical spectacle recalling Africa's participation in the First World War that premiered at the Tate Modern last year, speaks to his openness to exploring new modes and disciplines. This willingness to innovate, a hallmark of his two exhibitions, is grounded in a simple faith.
'For me drawing is the heart of the activity, even if the drawing is done with an actor rather than a stick of charcoal,' said Kentridge.
INFORMATION
'Why Should I Hesitate', until 23 March 2020, Zeitz MOCAA and Norval Foundation. zeitzmocaa.museum; norvalfoundation.org
Receive our daily digest of inspiration, escapism and design stories from around the world direct to your inbox
Sean O'Toole is writer, editor and curator based in Cape Town. He has published two books, most recently a 2021 monograph on the expressionist painter Irma Stern, as well as edited three volumes of cultural essays, including 'The Journey: New Positions on African Photography', which received a New York Times critics' pick for Best Art Books 2021. His exhibition projects include 'Photo book! Photo-book! Photobook!' at A4 Arts Foundation, Cape Town.