Jonathan Ellery explores mass culture in a marvellously minimalist tome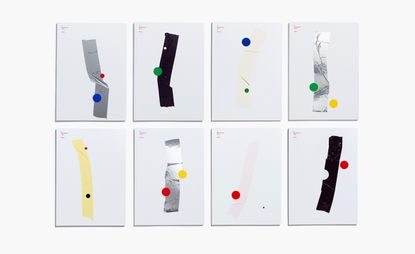 (Image credit: TBC)
What do Noam Chomsky, Walter Lippmann and Jonathan Ellery have in common? Perhaps, as Ellery's minimalist exploration on printed paper proposes, it's an interest in what makes us tick as human beings.

In Ellery's latest book – a collection of pencils and charcoal drawings and relief sculptures fashioned with tape and stickers – Ellery draws on similar interests between the two major political thinkers of and his own artistic pursuit of the truth about our so-called democratic society.

Lippmann wrote that we must 'live free of the trampling and the roar of a bewildered herd', referring to the distorted information we receive and the human tendency to spectate, rather than participate in actions.
Ellery's A Bewildered Herd (referring to both Lippman's seminal Public Opinion from 1922, and Chomsky's Media Control 80 years later) in this collection of works, is the British artist's own take on this idea, using form to consider how easy it is to control and manipulate through mass culture and the semiotics of consumerism.

Of course, Ellery's exploration of the idea and ideals of democracy is through abstraction. The first half of the book has a more urgent, primordial feel, partly down to the use of pencil and charcoal materials, while the sculptural works with different kinds of scotch and gaffe tape – sometimes with their symbolic words 'FRAGILE' still visible – tell their own distinct story. They allude more directly to the contemporary world, part found objects, part kitsch pop, rendered more so through the strong studio lighting used to shoot the works. The series is perhaps Ellery's most abstract work to date.

As an artist, and as founder of British design studio Browns, Ellery has continually probed at the human psyche – while earlier works focused on the erotic, sexuality, and the human condition, this new book seems more preoccupied with our current political times. But as if to contradict the 'herd mentality', Ellery has hand crafted 300 individual covers, one unique for each edition of the book.
INFORMATION
A Bewildered Herd, £45, published by Browns Editions
Receive our daily digest of inspiration, escapism and design stories from around the world direct to your inbox
Charlotte Jansen is a journalist and the author of two books on photography, Girl on Girl (2017) and Photography Now (2021). She is commissioning editor at Elephant magazine and has written on contemporary art and culture for The Guardian, the Financial Times, ELLE, the British Journal of Photography, Frieze and Artsy. Jansen is also presenter of Dior Talks podcast series, The Female Gaze.