In memoriam: John Baldessari (1931-2020)
The godfather of conceptual art died on 2 January at his home in Venice, Los Angeles, at the age of 88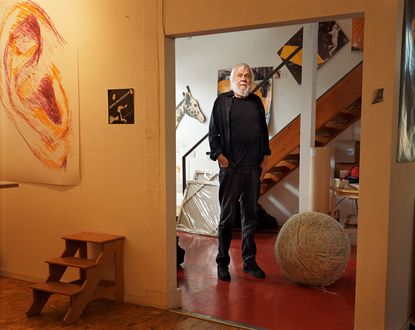 (Image credit: Larry Sultan)
The artist John Baldessari (opens in new tab) worked as an abstract painter in the 1950s and 1960s, with mixed success. On a Friday afternoon in July 1970, he packed all of his paintings into his car and drove them to a funeral home in San Diego, where he lived at the time. Once there, he loaded 13 years worth of work – dated from his college graduation in May 1953 until March 1966, when he gave up relational painting – into the funeral pyre and watched as his work was cremated.
Later that summer, Baldessari moved from San Diego to Santa Monica to teach a course at the California Institute of the Arts (CalArts). Around the same time, he carefully reformed the charred and ashen remnants of his early career, baking them into cookies and placing them in an urn. He then transported the ashes to New York, where they were displayed at the Museum of Modern Art as part of 'Information', the museum's seminal group show of contemporary conceptual art.
The Cremation Project was inspired by another bastion of conceptual art, Marcel Duchamp, after Baldessari witnessed the French artist's 1963 retrospective at the Pasadena Art Museum, curated by Walter Hopps. While Baldessari's contemporaries approached their art with a remote, straight-faced seriousness, Baldessari learnt from Duchamp that art could be laced with satire. He was given permission to use art to tell jokes. 'It was a very public and symbolic act,' Baldessari later said of his dramatic act. 'Like announcing you're going on a diet in order to stick to it.'
Baldessari's cremation act, alongside his move to CalArts, was a way of publicly announcing a different direction in his journey as an artist: a way of jettisoning the abstract straitjacket he had formed for himself so as to explore a practice of expansive multimedia conceptualism. At CalArts, he founded what he called his 'post-studio', where he worked across a range of new media – painting and text, video and photography, sculpture and installation. In doing so, Baldessari started on a path of experimentation that, by the time of his death, would see him garlanded as one of the most influential contemporary American artists and educators of the late-20th century – and, along with Ed Ruscha, California's art heavyweights of the era.
Baldessari was born on 17 June 1931 in National City, California. His parents, Antonio and Hedvig Baldessari, had met after arriving on the West Coast from Austria and Denmark. Baldessari's father was a metal worker who salvaged and sold scrap, and his parents were largely self-sustaining, growing their own fruit and vegetables on land they owned, and tending to rabbits and chickens. The principles his parents instilled in him as a child meant he struggled to discard anything as an adult, instead deciding to appropriate and incorporate everyday objects into his art.
RELATED STORY
As a student, Baldessari majored in art education at San Diego State College, and was at first unsure as to whether to define himself as educator or artist. He taught art in junior high schools and community colleges before running an arts and crafts programme for the California Youth Authority, which included spending a summer attempting to reveal to a class of juvenile delinquents the joys of art – a job, he later said, was amply aided by his 6'7" frame.
In 1957, a studio class pushed Baldessari away from education and more towards introspective creation. By the time he visited the Duchamp retrospective in 1963, he had earned a spot studying at the prestigious Otis Art College of Art and Design in Los Angeles. Once ensconced in his CalArts post-studio, Baldessari became part of a movement of artists who placed more emphasis on the ideas an artwork expressed over aesthetic concerns regarding composition or draftsmanship. Yet, while other conceptualists in his sphere pursued their work with a pseudo-intellectual sincerity, Baldessari endeavoured always to seek out the fun in his work.
Alongside a fluency in Dadaism and frequent nods to the pop art practiced by New York artists like Andy Warhol and Roy Lichtenstein, Baldessari's practice centred largely on doctoring and manipulating photographic ephemera taken images from news, stills from Hollywood movies, or advertising campaigns, many of which were bought for 10 cents apiece from a trinket store in Burbank, LA County. He would often obscure the faces visible in his found photographs, directing the viewer to focus on accidental elements of the composition. Baldessari would tell his students: 'Don't look at things — look in between things.'
Baldessari remained at CalArts, teaching and working in his post-studio, until 1988. From 1996 to 2005, he taught at the University of California, Los Angeles. His departure from university teaching coincided with a lifetime achievement award from the Americans for the Arts. He was elected to the American Academy of Arts and Letters in 2008; awarded a Golden Lion for Lifetime Achievement at the 2009 Venice Biennale; and received the National Medal of Arts from President Barack Obama in 2014. In the later chapters of his life, Baldessari became a world-famous art figure. From 2009 to 2011, a retrospective of his five-decade career, 'Pure Beauty', travelled to London's Tate Modern, the Los Angeles County Museum of Art and MoMA in New York.
Baldessari's death was confirmed on Sunday by Virginia Gatelein, his studio manager and foundation chairwoman. He is survived by his sister Betty Sokol, his daughter Annamarie, and his son Tony.
INFORMATION
mariangoodman.com (opens in new tab); spruethmagers.com (opens in new tab)