How Joël Andrianomearisoa is putting Madagascar on the contemporary art map
Malagasy artist Joël Andrianomearisoa is the creative mind behind Hakanto Contemporary, a new multifunctional arts centre in Madagascar's capital, Antananarivo. A new group show of 26 artists showcases the breadth and scope of work being made in and around the city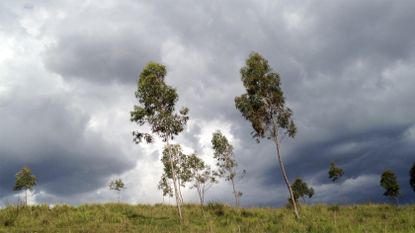 (Image credit: MD370 and Solitude d'une Île videos. Courtesy of the artists and HAKANTO CONTEMPORARY)
'I decided to forget about Madagascar, in order to represent it better', says the artist Joël Andrianomearisoa of the majestic and melancholic installation he created for the 2019 Venice Biennale.' Titled I Have Forgotten the Night, the work was Madagascar's first pavilion at the international event and reconstructed the intoxicating ambience of the country's capital, Antananarivo, at night, engulfing the viewer in cascading layers of delicate, torn black paper and sounds evoking places and events related to Madagascar's past and present.
There are, at present, no art schools in Antananarivo; museums, institutions or commercial galleries dedicated to contemporary art have – until now – been non-existent. Andrianomearisoa recognised the potential of building on the momentum created by Madagascar's presence in Venice. Partnering with Hasnaine Yavarhoussen, founder of Fonds Yavarhoussen, the principal sponsor of the pavilion, he decided to open a multifunctional, not-for-profit arts centre, Hakanto Contemporary. Just six months after the biennale, Hakanto opened in an industrial area in east Antananarivo, to promote local art and culture, both within the country and abroad, with exhibitions, an educational programme, funding for artists to travel abroad and off-site collaborations and events.
It might be Andrianomearisoa's most ambitious and challenging work yet. While the current exhibition of 26 Malagasy artists showcases the sheer breadth and scope of work being made in, around and about Antananarivo, the public response to their endeavours has been mixed; large-scale documentary photographs portraying the city's disenfranchised, by Viviane Rakotoarivony as part of an off-site Hakanto project, were torn down two days after they were installed in the streets.
A towering metal and concrete sculpture by Andrianomearisoa, meanwhile, provoked controversy when it was erected last year outside the City Hall. In a city with a diverse population and poverty, where more than 62,000 people have been affected by floods and landslides in the current cyclone season, few believe culture should be a spending priority.
Naina Andriantsitohaina, who was elected mayor of Antananarivo in January 2020, has nonetheless made culture a key objective – another of his major projects has been the renovation of the historic Ambohijatovo Park in the centre of the city. Andriantsitohaina concedes that the sculpture 'came at a political cost – but it is an opportunity to reclaim the city, to take charge of our history and our image'.
This is something Andrianomearisoa strongly upholds; his passion for his city, which spreads up and down three mountainous ridges, with lush glimpses of tropical foliage and rice fields between a mixture of crumbling colonial buildings and new architecture, is ever-present in his work. It constantly questions what it means to be Malagasy, to belong to an island and simultaneously be part of the world.
The sculpture at the City Hall shares many of the trademark characteristics of an Andrianomearisoa work: it is both profoundly poetic and accessible, rigidly structured and resolutely open, meticulously detailed while still addressing the bigger picture. The towering geometric frame contains Malagasy words that proclaim 'from here we convey the dreams of the world' – Andrianomearisoa put the same words, but in French, in neon on the façade of the Palais de Tokyo in Paris. The phrase pays homage to the poet Fernando Pessoa – poetry, lyrics and literature are often sources of inspiration for Andrianomearisoa – but is given a new shape for Antananarivo; the work encourages the island to reimagine itself at the centre.
Framing contemporary Malagasy identity – giving it visual and intellectual form – has been Andrianomearisoa's consistent concern since his first creations in the 1990s, when he started out staging avant-garde fashion shows and provocative street performances across Antananarivo, some involving fire and nudity. Andrianomearisoa always sought out multiple expressions of being Malagasy: around that time, he led a design project to create a catalogue of local materials and crafts.
A fluid mix of materials, techniques and languages in Andrianomearisoa's emotive, textile-based monochromatic works draws on this rich cosmopolitan Malagasy heritage; from shimmering sculptural installations (such as the giant flowers currently installed as part of the 'Ubuntu' exhibition at the Palais de Tokyo) to the sensual and sumptuous small-scale works, such as the rippled pleats of the popular radzimir silk handbag he created for Dior Lady Art in 2020.
In 1999, the artist left Madagascar for Paris, to study architecture under Odile Decq at the prestigious École Spéciale d'Architecture. 'She opened my eyes as an architect but also to other domains – I can be an architect but also an artist, I can be a visual artist but also interested in food, I can be from Madagascar but also be looking at the world,' says Andrianomearisoa, who now has two studios in France. 'I need these two geographies.' His third studio is a stunning three-floor 18th-century house on Faravohitra Hill, Antananarivo, whose original wooden floors and beams he carefully restored.
At Hakanto Contemporary, the present exhibition 'Ny Fitiavanay/Our Love/Notre Amour' picks up on the idea of looking simultaneously at Madagascar and out at the world, bringing together the rich imaginary of visual artists, painters, photographers, designers, musicians, performers, intellectuals and academics who have each quietly contributed to the cultural scene in Antananarivo over the last half-century.
Among the works is an elegant, hallucinatory diptych in muted tones by the master painter Jean Andrianaivo Ravelona, the grandson of a healer, who trained in meditation for creativity in Antananarivo in the 1960s. In the 1980s, he developed a style of painting he calls 'Ay Fanahy', that is intended to be used for meditation – done correctly, the effects can cure the viewer of physical or emotional problems, Ravelona tells me.
There is a haunting, soul-searching sound piece by singer Môta Soa, riffing on the symbol of the heart that proliferates throughout the exhibition; and evocative photographs by Joan Paoly, an emerging artist who uses long exposure to paint with light. Shooting exclusively from the windows of his family homes in Antananarivo and on the coast, he is fascinated with the metaphorical prospects of being inside, looking out.
There are also ruminative video works combining new and archival footage of the city by Rina Ralay-Ranaivo, who co-curated the Venice Pavilion, and a series of photographs of the early 2000s uprising in the capital by Philippe Gaubert, a French-born photographer who has lived and worked in Antananarivo since the 1990s and has tirelessly photographed Malagasy rituals, ceremonies and collective experiences.
While Andrianomearisoa insists he is not a curator, the exhibition is a powerful thesis on love, place and independence, that avoids the clichés of national or regional explorations; it is pulsing with curiosity and contradiction – and cloaked with mystery, escaping a single, fixed meaning – much like Madagascar itself.
As Simon Njami writes in Andrianomearisoa's monograph: 'Madagascar does not exist as such as a tangible, physical place… Finally, Madagascar does not become a space open to all, but rather an intimate, unutterable place of memory.'
INFORMATION
'Ny Fitiavanay/Our Love/Notre Amour', until 16 March 2022, Hakanto Contemporary. hakantocontemporary.org
Charlotte Jansen is a journalist and the author of two books on photography, Girl on Girl (2017) and Photography Now (2021). She is commissioning editor at Elephant magazine and has written on contemporary art and culture for The Guardian, the Financial Times, ELLE, the British Journal of Photography, Frieze and Artsy. Jansen is also presenter of Dior Talks podcast series, The Female Gaze.