Art's desire: Jeffrey Deitch and Larry Gagosian join forces in Miami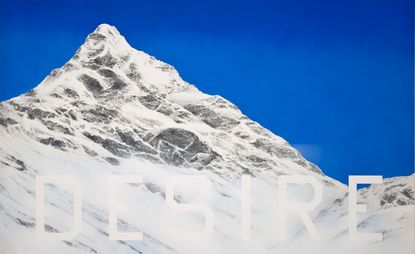 (Image credit: © Ed Ruscha. Photography: Benjamin Lee Ritchie Handler. Courtesy of Gagosian)
Jeffrey Deitch and Larry Gagosian are two of the biggest dealers in the art world, so imagine the possibilities when the competitors partnered up for the latest Miami edition of Art Basel. The pair tapped Diana Widmaier Picasso, the granddaughter of Pablo Picasso, to curate 'Desire', their second Art Basel Miami Beach collaboration, which ran through 4 December at the Moore Building in the city's Design District. The exhibition took a look both a figurative and conceptual look at eroticism through both the modern and contemporary lens. Over four dozen artists are featured in the group exhibition, from Picasso, Diego Rivera, and Francis Picabia to Harmony Korine, Deana Lawson, Vanessa Beecroft, Nan Goldin, and Eddie Peake.

The exhibition's namesake is Desire, an Ed Ruscha painting from 2013. The work, which started the exhibition, depicts the word 'Desire' in bold, white lettering before an image of a snow-capped mountain top. The exhibition captures every element of desire, from the innocent longing to nudity of both the female and male forms, to the actual carnal act of intercourse.
'Trent Looked at Tara', by Alex Israel and Bret Easton Ellis, 2016. © Alex Israel and Bret Easton Ellis. Courtesy of iStock and Gagosian. Photography: Josh White/JWPictures.com
Set over three floors of the Moore Building, the exhibition includes Torso (1977), a polymer paint and silkscreen print by Andy Warhol of a peach-colored woman's torso, complete with pubic hair, against a periwinkle background. Across the room, Picasso's 1956 painting, Femme Dans Un Rocking-Chair, shows off one of the artist's crude, colorful nudes. Harumi Yamaguchi's 1977 acrylic paintings, including of a woman falling off her skateboard shows the more innocent, playful side of desire.

Marilyn Minter's Haze (2016) shows a photograph of a pouty open mouth behind fogged glass. Juergen Teller's Octopussy (2008), shows off the photographer's signature cheekiness through an image of an octopus on a bed covered with a white sheet. Auteur Gaspar Noé presented a quadriptych of four images in red that show the fondling that goes on when two people fool around. Nobuyoshi Araki's photographs are among the most erotic works in the show, but the centerpiece, no doubt, is the Jeff Koons sculpture of him fornicating with his ex-wife, porn star Ilona 'La Cicciolina' Staller, which sat in the middle of the ground floor beneath the Zaha Hadid intervention.
INFORMATION
'Desire' is on view until 4 December. For more information, visit the Gagosian website
ADDRESS
Moore Building
Miami Design District
3841 NE 2nd Ave #300
Miami, FL 33137