Jean-Paul Guerlain and Thierry Wasser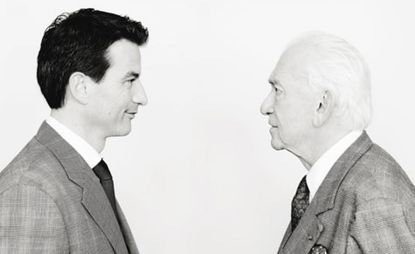 (Image credit: press)
Jean-Paul Guerlain in coversation with Thierry Wasser
With Jean-Paul Guerlain's son having chosen law as a profession Guerlain (71) retired in 2002 leaving the company, now owned by LVMH, with no family member at the creative helm. He continued to consult, but no in-house perfumer was appointed until this year, when Thierry Wasser (47) joined the family 'he is my adopted son,' says Guerlain. 'We have adopted each other,' replies Wasser.
When Wasser studied perfumery he was made to deconstruct and copy Guerlain's iconic fragrances. Now he is the envy of the profession, learning from the master not only the creative signature of the company, but also those bits of the profession that are wiped from the duties of the modern perfumer - the inspirational travel and first hand sourcing of materials which has always been the job of the Guerlain perfumer. For the moment they do it together, and have become firm friends – if not family - in the process.
[B]W* :[/B] Monsieur Guerlain, there was talk back in 1999 of you passing on the mantle of in-house perfumer at Guerlain, but it didn't happen. What makes it right now, with Thierry?
[B]JPG:[/B] It didn't happen in 1999 because M Arnaud of LVMH called me when he heard I was going to retire and said "What must I do to keep you, I want you to remain the 'gardien du temple'". I said to him, just leave me alone, and let me work in the way I have done for 50 years then maybe I'll stay with you and that's what happened. But I'll soon be 72 and now it's time for me to have a successor.
[B]W*:[/B] What part did you play in the appointment of Thierry?
[B]JPG:[/B] The president of Guerlain (Laurent Boillot) asked me my opinion on Thierry, and this chap came from a company I knew - had worked in even - Firmenich.
[B]TW:[/B] Firmenich offered you a job didn't they in the 1950s?
[B]MG:[/B] Yes they offered me a job. I had been working there for experience and the day I was leaving they gave me a gold watch and asked if I would come and work for them – it was very courageous because my family were 'the customer'.
[B]W*:[/B] But you were always going to go back to work for the family firm, weren't you?
[B]JPG:[/B] Yes but I could have happily stayed at Firmenich for three or four years. It never happened because my grandfather was still alive and he would have died sooner if I hadn't come back.
[B]TW:[/B] Especially as you had already created Vetiver. You were already part of Guerlain.
[B]JPG:[/B] Yes. And I was working on Chant d'Arome
W*: So when did you two first meet?
TW: We met while designing L'Homme de Guerlain
W*: You had already been hired at this point, Thierry?
TW: No I was at Firmenich, and had been commissioned to do the scent, but I got stuck when developing it and so spoke to M Guerlain. He said if you are so obsessed with adding freshness you should try rhubarb. And he was right. So we started to work together closely. But I was still at Firmenich at the time.
JPG: This was a time when people in marketing thought it was better to go and look elsewhere to do what we could do in house.
TW: Yes, the marketing people were saying we don't trust what we have so we are going to look outside for ideas - It was a brief spell. This is why this mentoring is so important - if the family success is to continue, I have to go through this.
W*: So do you feel like you are going through a process together?
TW: Of course, no question. We are going to the sourcing places together - We will receive the Bulgarian rose people together soon, and we will go to the fragrance houses together.
W*: This sourcing part of the job is new to you isn't it?
TW: It is all fairly new because at Firmenich we had people to look after that side and I used what is the standard offering of raw materials. While at Guerlain…well M Guerlain is the Indiana Jones of fragrance. He has travelled the world to find raw materials. It is a special skill. Once somebody asked me why perfumery was always such a masculine job – well first of all it isn't anymore because now the ratio of men to women in the industry is 50/50 - but it was masculine because you have to put on wellington boots and go out in the field. And that is a big part of what I am learning with M. Guerlain. He has spent his life travelling.
W*: Is it a dying art – to see the fragrance development through from the sourcing of materials to the creation of the juice?
TW: It's a privilege and a luxury – it won't die - that's why I'm here.
If you are intelligent enough to listen and to learn from somebody you will succeed but you have to listen and to watch…
JPG: And to work hard
W*: So you are obviously learning quite a lot, Thierry, even though you have practised perfumery already for sometime?
TW: Sure. You don't act the same when you are responsible for a brand. I am not going to betray five generations of the family. I don't want to break hearts, I want to continue, and that's why I'm listening. We have a couple of years ahead of trips and of fragrance designs together – we are working together in the factory, we have a little project or two going.
W*: You obviously get on well. Do you think it is working because of your personalities?
JPG: I work very well with Thierry
TW: I think we have found eachother and it is indeed a personality thing
JPG: I'm gettting old. You get deaf, you get blind, but you don't lose your sense of smell. My grandfather's decline came quickly after a bad accident. His hip was repaired but his brain went downhill. His nurse was pushing him around in a wheelchair and he was shouting all the time and he refused to see anyone but my uncle, and myself – it was quite awful. Once when he was shouting a lot and my uncle said to me - why don't you go to his bathroom and fetch him something to smell – we all have samples of scents in our bathrooms - so I went and dipped a blotter in the last thing he created for my grandmother and I put it under his nose. He batted it away angrily. My uncle told me to try something else – so I tried what was going to be Chant d'Arome. And suddenly he grinned from ear to ear. I can still see this look of happiness. He died one hour after.
W*: So that's what you have to pass on – this passion?
TW: oh no! now I am afraid to have you smell anything…
W*: Thierry, you are learning about the sourcing side of the business, but what have you learnt in terms of perfumery from M Guerlain. You've talked about the 'Guerlinade', the Guerlain signature, have you cracked the code?
TW: There is definitely a Jean-Paul signature - it's something that has struck me when smelling things of his out on the market and things that are not – because I'm privileged to smell a lot of things that are not released.
W*: I smelt Elisabeth's (Head of Communicatoins) perfume earlier, and I sensed something familiar about it even though M Guerlain made it just for her
TW: Lavalliere is just for Elisabeth but it has the Jean-Paul signature. I have to figure it out. Because it is difficult for artists to explain why they do things. So I am looking at formulas and I am listening to M Guerlain. I'm learning that there is something very coherent in Guerlain throughout the generations and it is first of all the natural raw materials which have specific grade and quality. I am learning how to integrate the jobs of creating and sourcing. And then there's the 'tour de main', the expertise and craftsmenship in the factory – you have to learn about techniques that are still in use from the 19th century like tinctures or infusing techniques etc etc - these are very specific techniques and typical of Guerlain's signature so you have to learn them.
W*: And these are things that are new to you?
TW: To a certain extent – as I have said before, the works of Guerlain being the pinnacle of perfumery - as a young perfumer you learn Shalimar you learn l'Heure Bleue you learn Nahema, you learn your Guerlain.
W*: In a way Guerlain mentored you before even met M Guerlain?
TW: It's true that you have to study Guerlain as a student. But nothing compares to meeting once or twice a week with somebody who has been taught by the man who designed Après l'Ondee, Mitsouko, l'Heure Bleue, Shalimar, Vol de Nuit…. Jacques Guerlain was Jean-Paul's mentor and now I'm talking to the man who has a direct link professionally and through his family to the beginning of the 20th century. Would I be stupid enough not to listen? Not to absorb that experience?
W*: So, M Guerlain, your grandfather was your mentor. How did he pass things on to you?
JPG: I smelt what he was doing, and he was kind enough to let me sit beside him and tell me to put in a drop of this or a drop of that. And then he put me in a small room where I could hardly stand up with over 100 bottles of different raw materials and told me to learn to recognise them all. Which I did. And when he thought I knew enough he gave me a bottle of perfume called Chantilly –and said try and reproduce it. Which I did. And then we had a problem with daffodil oil because there was a severe frost and the harvest was poor. My grandfather told me to try and create one. When he smelt what I had done he thought I had cheated and found some dafodill oil somewhere, because it smelt so authentic. He made me do it again to be sure. That's when he rang my father and said it is your youngest son, not your eldest who will succeed me.
T: You worked with your grandfather on Ode didn't you?
JPG: Yes I did half of it – well nearly three quarters. But in fact the first perfume I did - after Ode was for the Queen of England. She came on an official visit to Paris and the Syndicat de la Parfumerie Française asked us to create a perfume for her. This was about 1955. We knew she liked rose and jasmine and my grandfather told me to work on it – he was 86 by then. It was amusing because the Elysée Palace – where she was staying - told me to go and fill up the bottles in her bathroom with it, so I went with a little funnel and filled up the bottles in her bathroom, and it was a great opportunity to visit the Elysée Palace. She liked it clearly. It's in our formula book as the Parfum de la Reine.
W*: That formula is not touched now?
JPG: No we only created it for the Queen and she is the only one to use it.
W*: I know, M Guerlain, that you put a lot of emphasis on literature and music – they are very important to you?
JPG: They are very important to me because I was going to be a teacher at one point. I hated the sciences and mathematics and chemistry and physics but I was very good at English and history and French literature, so I decided that I would try and be a teacher when I went blind. But then everything changed – I had an operation, and started working with my Grandfather. Literature and music have been very important to my professional life.
W*: How have they influenced your work?
JPG: You know when you like poetry it changes everything.
TW: You have examples – Chamade is in inspired by Sagan's novel of the same name, Chopin is an inspiration...There has always been a strong bond with culture at Guerlain. Vol de Nuit for example has links to St Exupery…
W*: Are you looking to poetry and music and literature for your inspiration, Thierry?
TW: I'm not as big a reader as Jean-Paul but I have an ear for a symphony, and chamber music, a little less so for opera. For me the structure of the symphony is close to what we do. I particularly like Tchaikovsky's 5th symphony as it is very expressive.
JPG: I created something which is sold now in Maison Guerlain called The Four Seasons inspired by Vivaldi – a coffret of four scents inspired by the seasons.
TW: Music is good fuel for creativity. I think there is a continuity about things. I'm not here to rupture things. And culture has always underlain creation at Guerlain - reading, music…. and M Guerlain is also an art collector.
JPG: Absolutely. I am thankful to my grandfather for teaching me my profession but also angry with him because he made me a collector too. And it is a very expensive hobby.
W*: How will the next big perfume evolve – collaboratively?
TW: I don't know if it will be the next big project but the other day M Guerlain had an idea that he told me about – but it is secret so I can't tell you exactly what it was. But he had the idea while were in a meeting with M Boillot, our president. We were in his office and I guess somebody was talking and something struck a chord and at the end of the meeting you said to me, why don't we do such and such. Then you called me on the Saturday on my cellphone – I remember because I was at Hermès when you called – and you said 'you know that idea we talked about – why don't we put a little bit of such and such to smooth up the note and make it a little more fun'. So I don't know, where does that idea come from?
W*: Thierry, What would you like to pass on?
TW: it's a little early for that but the other day we had lunch together at George and M Guerlain introduced me to his eldest grandson, and I said are you interested in fragrance? Well I don't know – But it's a possiblilty – everything is possible.
What would I like to pass on? I would like to be patient, and humble enough to be like M Guerlain. You know if you want to be a teacher you have to have a sense of sharing and to be a teacher you need to be at ease with who you are in order to give. So I think being a teacher is being generous and if you want to pass something on you have to have those qualities and I hope I will have them one day. For the past 25 years, professionally I have been mixing things together so I am a capable perfumer. But my life is changing now and I'm building myself into a new person and hopefully I will reach a point where I will be like Monsieur Guerlain – able to give back and share something with a younger person.
W*: Do you appreciate that you are inspiring another generation, M Guerlain?
JPG: Yes!
TW: When you are a living legend in your field often you are not able to teach because it is hard to express yourself. It is a sensitive job. Sometimes you have to get naked in front of someone to express your feelings and it's not always easy to get naked in front of someone.
W*: Do you feel like you are teaching, M Guerlain, or is it a very natural process.
TW: It's a drag everytime he sees me!
[B]JPG:[/B] No, I am happy to pass on some of my knowledge.