Jasmina Cibic on feminism, nation building and modernist architecture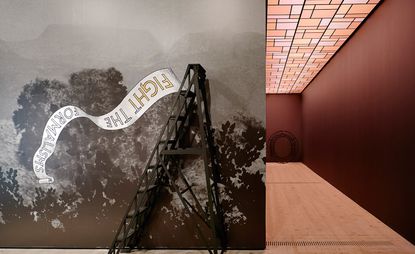 (Image credit: Jasmina Cibic)
Jasmina Cibic presents three historic moments of European crisis through her theatrical video works on display at Newcastle's Baltic Centre for Contemporary Art for the exhibition 'This Machine Builds Nations'. Addressing themes of national identity, nation-building and European relations, Cibic's works are layered critiques of the patriarchal structures upon which 20th-century modernism was built.
In Cibic's work, architecture forms a stage for these debates, upon which she adds theatrical and literary references drawn from her research into politics, architecture, philosophy and feminism: 'It's about questioning how the female presence is totally eradicated from the 20th century of patriarchal construction,' says Cibic of her Nada series of performative video works.
NADA: Act I, II and III are all centred around modernist constructions designed by male architects: the unrealised Yugoslav Pavilion for the 1958 EXPO in Brussels; Arne Jacobsen's Aarhus City Hall; and Mies van der Rohe's Haus Lange and Haus Esters in Krefeld, Germany. The series began following Cibic's experience working on an earlier piece set at the Former Palace of the Federation in Belgrade.
'All the paintings, frescoes and murals are very abstract, non-figurative, but the sculptures in this palace, were not just of female nudes, but eroticised female nudes,' she says. 'This kind of representation prompted me to think more about the analogy between the female body and the nation state, to figure out mother nature, this dichotomy – this paradox – that has to lure, and be a seductress, but also has to be a mother. This duality, as well of a nation state, of what it has to do. Is it able to be united or not?'
Nada Act III, is set in Krefeld, Germany, at Mies van der Rohe's residential villa designed for two wealthy male art collectors, Hermann Lange and Josef Esters: 'He [Mies van der Rohe] purposefully designed the boudoir, the room for the lady of the house, where he distributed cacti and female nudes. I'm probably going further towards Lacan than Freud, but the whole gendering of the spaces is about control.'
In addition to the design of buildings, Cibic looks at the surrounding cultural system – the preservation and image in public life today: 'The biggest point of this project is how these patriarchal structures are historical, but still existent' says Cibic. 'When the museum took over [the Mies house at Krefeld] they started building this sculpture garden and there's not a single female artist there.'
The final scene in the film shows a nude female sitting on large, weathered corten plinths, being sketched by a class of male artists. The 'plinths' that are in fact, Richard Serra sculptures – a satire embedded by Cibic into the piece. 'They just serve as plinths,' says Cibic of the multimillion-euro Serras. 'There was a lot of negotiation with the institutions because these are all listed buildings and there are copyright issues, so there's a performative negotiation with even getting access. But even trying to put the naked woman onto the Richard Serra... pigeons can shit on it, but a woman's naked butt can't sit on it?'
Cibic has a brilliant sense of humour and a dark grasp of the societal issues surrounding being female today. Her delivery is smart, sharp and clean – and her means of communication are seductive too. Her work treads the very balance she questions. Cibic describes the series as 'a play with allegorical structures, and very theatrical – the whole thing is verging on the tipping over of and becoming a very stylised entity'.
She looked to archival sources including images of women in historic political meetings for casting and costume design. 'The entire structure is piecing together different languages – on one hand the historical readymade, but on the other hand other alphabets of style and thought acceptable by the power elite of the moment.'
At moments Cibic's editing style in Nada: Act II is almost commercial, with freezing frames skipping and fast-forwarding – colliding in style somewhere between an episode of Black Mirror and a seductive dance performance (choreographed by Lea Anderson) worthy of the Royal Opera House. The literary works of Margaret Atwood or the artist Julian Rosenfelt's Manifesto spring to mind. By using narrative and seductive editing, her work is entertaining and accessible – the contemporary art equivalent to the socialist manifestos painted on the opening wall of the exhibition in the work, Show the Land in Which a Wide Space for National Progress is Ensured. Here, performers paint political phrases across unrolling scrolls, floating in a dark European-looking landscape, composed of references from the photographic archive of Yugoslavia's first president, Josip Broz Tito.
It's hard not to think about Brexit and Britain's current identity while looking at Cibic's work: 'This situation is happening day to day,' she says, 'there's so much there you can't not touch it. I'm from Slovenia, living in London for 15 years. I have an immigration lawyer now, I've got a kid who has dual citizenship.' Speaking about the current situation in relation to the issues she addresses in her work, Cibic says: 'It is the rebranding and a reassertion of a national identity which is incredibly interesting, in terms of its "Europeaness" that we [the UK] never really managed to construct – and it's probably unconstructable.'
Today, women take part in constructing our nations, yet like Cibic's players, they are still navigating on a patriarchal stage, always performative, self-conscious, stereotyped, critiqued for the act of purely being female. Cibic's work is historical portrait of the 20th century, yet her process is evidence in itself that the topics she addresses are still present in the 21st century.
INFORMATION
'This Machine Builds Nations' is on view until 28 May. For more information visit the Baltic Centre for Contemporary Art website (opens in new tab)
ADDRESS
Baltic Centre for Contemporary Art
Gateshead Quays
South Shore Road
Gateshead NE8 3BA
VIEW GOOGLE MAPS (opens in new tab)
Harriet Thorpe is a writer, journalist and editor covering architecture, design and culture, with particular interest in sustainability, 20th-century architecture and community. After studying History of Art at the School of Oriental and African Studies (SOAS) and Journalism at City University in London, she developed her interest in architecture working at Wallpaper* magazine and today contributes to Wallpaper*, The World of Interiors and Icon magazine, amongst other titles. She is author of The Sustainable City (2022, Hoxton Mini Press), a book about sustainable architecture in London, and the Modern Cambridge Map (2023, Blue Crow Media), a map of 20th-century architecture in Cambridge, the city where she grew up.