Ice or diamonds? Isaac Julien presents his glacial film in Miami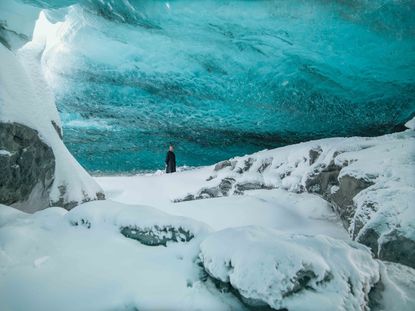 (Image credit: Photograph: Rodrigo Varela. Courtesy: Getty Images for Rolls-Royce Motor Cars)
Isaac Julien's latest video installation, Stones Against Diamonds, has been on quite a tour this year. A five-screen preview popped up at the Venice Biennale, a 10-screen presentation at Art Basel and a 15-screen walk-through version arrived at Art Basel Miami (the largesse and, credit where credit is due, vision of the Rolls-Royce Art Programme made the film's production and peripateticism possible). With each expansion the work becomes more mesmerising; a series of spectacular, sparkling meditative loops played out in multiple locations.

Julien explains that the piece – shown in Miami at the National YoungArts Foundation's wonderful Jewel Box Building, set behind the landmark Bacardi Tower in the Wynwood Arts District – was inspired by a letter sent by the Brazilian architect, curator and designer Lina Bo Bardi. In the letter, collected in the anthology Stones Against Diamonds, Bo Bardi explains to her husband that she prefers the organic beauty of uncut and semi-precious stones to cut, shaped and polished diamonds.

Julian took this as a cue to head north to find a place where nature does its own cutting, shaping and polishing. Taking 50 uninsurable crew with him, Julien spent five days filming in the isolated ice caves of Vatnajökull, Europe's biggest glacier, 400 miles south of Rekjavik in Iceland. (Julien is an Iceland veteran filming parts of 2004's True North and last year's Play time there).

Stones Against Diamonds has the actress, performer and Julien's muse Vanessa Myrie, wandering the frozen landscape in which, in a mixture of CGI and actual carpentry, Julian has placed a version of Bo Bardi's spiral staircase at Solar do Unhão in Bahia, Brazil. A tangential leap but it works wonderfully. Julien says he sees the ice caves as natural versions of Bo Bardi's own organic architecture. He also uses the glass and concrete easels Bo Bardi developed for the Museu de Arte de São Paulo, creating panels of glacial landscape and echoing the multi-screen installation itself.

Julien has a continuing fascination with Bo Bardi and his currently plotting his next piece, Seven Faces of Lina Bo Bardi. He has spent three years researching Bo Bardi, interviewing artists and architects, including those who knew and worked with her. And next year he will travel to Sao Paulo, Rio and Salvador to work on a 'lyrical' take on Bo Bardi's life, work and ideas. Brazilian actresses Fernanda Montenegro and Fernanda Torres will play the mature and young Bo Bardi respectively while the musician Gilberto Gill, a friend of Bo Bardi's, will work on the score.
INFORMATION
For more information, visit Isaac Julien's website (opens in new tab)