In focus: photography shows in London's Soho-Fitzrovia triangle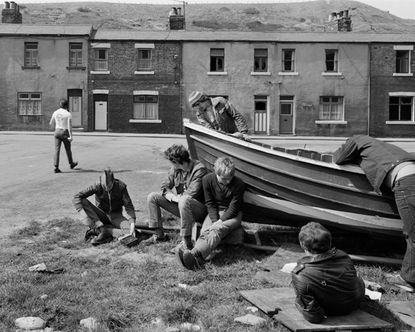 (Image credit: TBC)
The Soho-Fitzrovia triangle formed by The Photographers' Gallery (opens in new tab), Getty Images Gallery (opens in new tab) and the Margaret Street Gallery (opens in new tab) represents something of a hub for contemporary photography in London. And this week, perhaps more than any other, their schedules have aligned to launch a fine cross-section of work from artists toying with the conventions of the medium.

Getty (opens in new tab) presents a romantic, sun-blushed version of London's 2012 Olympic Games (opens in new tab), while on the top floors of the TPG's new five-storey Ramillies Street home, the four nominees for the Deutsche Börse Photography Prize (opens in new tab) expose photojournalism as a many-faceted genre. The Mannish photographer Chris Killip (opens in new tab), the most august of the group, offers a 20-year survey of working class England in the 1970s and 1980s. It's a straight-up document of a society on the verge of collapse, a meeting of Walker Evans (opens in new tab) and Henri Cartier-Bresson (opens in new tab) in pre-apocalyptic Newcastle.

Killip shares the floor with the Belgian Mishka Henner (opens in new tab), who has repurposed the photographic archives of Google Street View (opens in new tab) for his entry. Henner used information gleaned from internet chatrooms to unearth the precise locations of street walkers in suburban Spain and Italy, then enlarged the pixellated images and sourced audio files of birdsong to pipe into the gallery.

The duo of Adam Broomberg and Oliver Chanarin (opens in new tab) republished passages from Berthold Brecht's 1955 War Primer, which pairs disastrous Life (opens in new tab) magazine snapshots from the Second World War with poetic commentary by the playwright. Broomberg and Chanarin have overlapped the mid-century images with photos gathered from online sources throughout the War on Terror; the texts, meanwhile, still stand.

The photos of Spanish photojournalist Cristina de Middel (opens in new tab), by contrast, are posed reinterpretations of Zambia's foiled attempt at space travel in the 1960s. De Middel used press clippings documenting the country's space programme as a guide for her visual retelling: space suits fashioned from tribal fabrics; astronauts frolicking with elephants in the savannah and wandering between straw huts.

A solo show of vintage studio photographs by the Finnish commercial photographer Claire Aho (opens in new tab) manages to seem considerably more modern with her masterful manipulation of colour in the name of advertising. Aho was a one-woman entourage in the 1950s and 1960s, taking control of booking, lighting, styling, set design and printing, at a time when Finland was emerging from the war freshly focused on textiles and design. Her inspired layering of fabrics and backdrops and her talent for bringing out a model's personality are still being emulated today.

Up on Margaret Street the recently launched 'Transplant (opens in new tab)' celebrates the return of spring with an anachronistic series of prints by Patrick and Tristram Fetherstonhaugh (opens in new tab). The brothers, moved by London's short-blooming blossom trees, shot a succession in a single day on a single roll of Fuji film, stopping when the spool ran out. They sent the unexposed rolls to Tokyo for processing, a symbolic move that connects the two countries through this single cultural link.

They describe the results as 'deceptively uncomplicated', a phrase concocted in defense of pretty pictures that can act equally well for photojournalism. It neither detracts or distracts from their beauty, however, which - given the UK's lethargic Spring this year - is reason enough for our appreciation.