Yearning for a reunited Korea, Ik-Joong Kang lights up the Thames with floating installation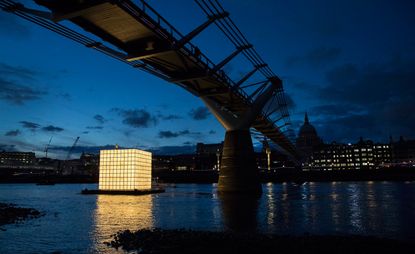 (Image credit: press)
'When we are young we see the present through the window of the future, but when we become old we see the present through the memories of the past,' mused Korean artist Ik-Joong Kang ahead of the opening of his first major UK commission. It's a poignant reflection of his Floating Dreams installation launching today on London's River Thames: an illuminated, cubed structure that reflects on the painful history shared by North and South Korea.

Born in Cheongju and raised in Seoul, Kang has long championed the reunification of the two Koreas through his art. Now based in New York, Kang returned to his native South Korea to gather some 500 drawings by individuals displaced by the Korean War over 66 years ago for this artwork, commissioned especially for this year's Totally Thames festival. 'The project's subject is the displaced, but the bigger theme here is unification,' says the artist.

A sculpture of a child holding a flashing light stands atop Floating Dreams, which Kang explains is symbolic of the memories his subjects – now in their 80s and 90s – were forced to reconcile in emotional sittings. Kang explains, 'These elderly displaced people in Korea are earlier examples of refugees. I wanted to create a monument dedicated to the refugees all over the world, made by the people who were forced to leave their hometowns.'

His subjects were invited to recall their hometowns in the form of miniature illustrations – small enough to fit in the palm of one's hand – which were then transferred onto 26 sq inch sheets of hanji, a traditional Korean rice paper, for the final artwork. These small canvases form the backbone of Kang's practice, and are often presented as mosaics, becoming increasingly vast and ambitious in scope.

Installed next to the Millennium Bridge, Kang's latest artwork has found a serendipitous (if only temporary) home. Much like its river neighbour, Floating Dreams bridges the past with the future with stirring optimism.
INFORMATION
'Floating Dreams' is on view until 30 September. The project is supported by The Korea Foundation, Youngwoo & Associates, Trinity Buoy Wharf Trust and Ministry of Unification. For more information, visit the Totally Thames website