Flying colours: Huis Marseille launches major Stephen Shore retrospective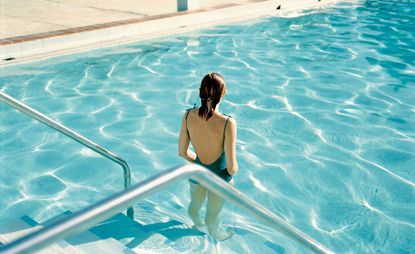 (Image credit: TBC)
In 1970, a portrait of Andy Warhol brought Stephen Shore to the Netherlands when the photograph was chosen for a group show at The Hague's Municipal Museum. Today, Shore's name is hugely influential in the contemporary history of photography and he has now returned to the country with a retrospective show of his more than four decades of work at Huis Marseille in Amsterdam.

More than 200 photographs from 1960 to today are on display; visitors can admire the versatility of his works in the 12 exhibition rooms inside the museum's two canal houses. As a pioneer in colour photography, the American master found fame in the 1970s with his contributions to the avant-garde and there have been many interesting turns along the way.

Shore is renowned for his technical brilliance. His career began with a 35mm Rollei and the exhibition includes a photograph taken when he was 13. From time to time he would also use a novelty Mick-o-Matic camera (shaped like Mickey Mouse's head), which he used for Greetings from Amarillo, "Tall in Texas" in 1971. For the series Uncommon Places (1973–81) and Landscapes (1984–88), he moved to a large-format film camera, trying to get away from the fast, flashing snapshots in order to think instead about composition and layout.

It wasn't a surprise that the never conventional Shore left colour photography in the early 1990s, as it had by now become the norm, and reverted to black and white only during the decade ahead. The result is two interesting series of work, Essex County (1992–95) and Archaeology (1994) – detailed monochrome documentations of tree barks, stones and archaeological digs. In 2000, he started another colourless series, New York City (2000–02), in which he explored the city using a hybrid of 4x5 and 8x10 film cameras, taking a series of huge photographs in the style of American street photographer, Garry Winogrand, which later became a classic of his own.

Shore has always been interested in subjects that are not seen as obviously photogenic. In the 1970s, he snapped everyday subjects that he came across in his cross-country road trips: motel interiors, pancake breakfasts, car parks and traffic intersections. At that time many of them could be interpreted as mundane, but in the modern age of Instagram, such subjects have become the daily ritual for many amateurs – which makes it interesting to see Shore's American Surfaces (1972–73) series alongside a live projection of his Instagram account on the museum wall. The instant images transcend the distinct style and consistency in his oeuvre, and show the photographer's spirit in constantly reinventing himself.
INFORMATION
'Stephen Shore / Retrospective' will be on show from 10 June until 4 September 2016. For more information, visit Huis Marseille's website (opens in new tab)
ADDRESS
Keizersgracht 401
1016 Ek Amsterdam
VIEW GOOGLE MAPS (opens in new tab)