Highlights from Tel Aviv Art Weekend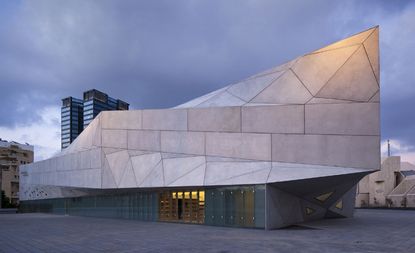 (Image credit: Amit Giron)
To celebrate the completion of three major cultural projects, which include a new building at the Tel Aviv Museum of Art (opens in new tab) - an impressive concrete and glass structure, designed by Preston Scott Cohen (opens in new tab), which opened last November - a new wing at the Tel Aviv Cinematheque (opens in new tab) and the newly renovated Habima National Theatre (opens in new tab), the city of Tel Aviv has declared 2012 'art year' (opens in new tab). To kick-start proceedings, it laid on an opening weekend with a packed schedule of cultural activities.

The weekend launched with a 24hr art marathon at the museum. The free-of-charge program of exhibitions, workshops, artist talks and live performances, drew a huge crowd. Highlights included an Anselm Kiefer guided tour through his Breaking of the Vessels show and a vocal performance by The Lightfall, an African Hebrew choir from Jerusalem, who were placed on various floors of the new building to sing at midnight.

The outside public space around the museum and performing arts centre was also packed with a series of multi-disciplinary installations, such as Dreamfields Urban Innovators (opens in new tab) an interactive 3-D game, which harnessed the collective intelligence of players to place coloured cubes within an arena. An instant photo booth, by Ido Shemi, allowed people to turn themselves into comic-like screen savers.

As well as these big-scale events, the city was peppered with pop-up exhibitions, guerrilla galleries and open studios, which together offered a glimpse into the buzzing creative spirit of Tel Aviv. One such pop-up was FAD (which stands for fashion, art and design) - a 30 day concept store in the Florentine area that played host to the launch of the Wallpaper* City Guide to Tel Aviv (opens in new tab), showcasing the city's new cultural cachet.

In the south of the city, the former industrial neighbourhood of Kiryat Hamelacha (the working district) is now home to around 70 artist studios and galleries. The young creative community seems to be congregating here, where space is plentiful and rents are still reasonable. More established galleries are also beginning to relocate here, which indicates where the area is clearly headed. All weekend, specially arranged art tours stopped by the studios, allowing visitors to meet the artists and see them at work.

The newly redeveloped port at Jaffa, home to large warehouses, is a great place for studios and galleries and was worth a wander. Creative collectives, such as Four n Five (opens in new tab), work and exhibit there, while The Salon, a two-year-old permanent space, promotes the work of young Israeli artists.