Auto-biography: Elmgreen & Dragset present 'Powerless Structures' in Tel Aviv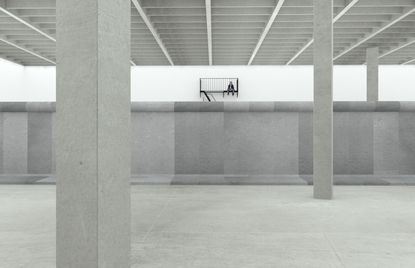 (Image credit: press)
The London-and-Berlin-based duo Elmgreen & Dragset will be opening their first show ever in Israel on 31 March, at the Tel Aviv Museum of Art. The exhibition comprises the third part of a trilogy – previous chapters took place at the Astrup Fearnley Museum in Oslo and the National Gallery of Denmark in Copenhagen.

This site-specific exhibition, entitled 'Powerless Structures', questions political, financial, cultural and even physical social frameworks. In the opinion of Ruti Direktor – head curator for contemporary art at the Tel Aviv Museum of Art – these questions are viewed through an utterly unique lens.

'In Elmgreen & Dragset's work, the biographical element is at once explicit and implicit, and it is almost always tied, in various ways, to their relationship and their dual identity as artists,' says Direktor in the passage she wrote about the artists in the book Elmgreen & Dragset – Biography, accompanying the Oslo show.

'Thus, for instance, in their short play, Happy Days in the Art World, the protagonists are two artists working together, concerned about what will happen to their creative future if they break up.' But even just the idea of biography is something the artists turn upside down by signing their works with their two names.

The works on display at the exhibition span the years 2006 to 2016 and include pieces like For as Long as it Lasts, 2016, a full size replica of a section of the Berlin Wall mounted in dialogue with another work, The Future, 2014, an installation of a hooded teen sitting on a fire escape. Of course, typical of the duo are cheekier works like Donation Box, 2006, a transparent box filled with personal items that, instead of being open for donations, it is sealed off. Of course, it's just another knowing wink from the artists.
INFORMATION
'Powerless Structures' runs from 31 March – 27 August. For more information, visit the Tel Aviv Museum of Art's website (opens in new tab)
ADDRESS
Tel Aviv Museum of Art
27 Shaul Hamelech Blvd
POB 33288, Tel Aviv
VIEW GOOGLE MAPS (opens in new tab)
Daniel Scheffler is a storyteller for The New York Times and others. He has a travel podcast with iHeart Media called Everywhere (opens in new tab) and a Substack newsletter, Withoutmaps (opens in new tab), where he shares all his wild ways. He lives in New York with his husband and their pup.