Hans Ulrich Obrist in conversation with MF Husain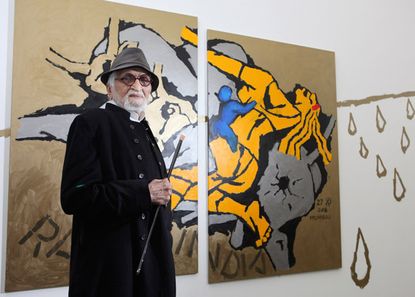 (Image credit: Jason Alden)
Wallpaper* Newsletter
Receive our daily digest of inspiration, escapism and design stories from around the world direct to your inbox
Thank you for signing up to Wallpaper. You will receive a verification email shortly.
There was a problem. Please refresh the page and try again.
'Your memory and what you have done should remain alive. People should not forget certain things that happen in a lifetime,' MF Husain once said. The Indian artist, who died earlier this month at the age of 95, is, however, in no danger of being easily forgotten. A former billboard painter from Pandharpur, he grew to become the country's most famous artist and was regularly nicknamed 'India's Picasso', despite going into self-imposed exile in 2006, after receiving a spate of death threats in reaction to his paintings of Hindu goddesses in the nude.
A softly-spoken eccentric, latterly known for his often flowing white beard and impeccably tailored Hermès suits (sometimes worn with bare feet), Husain created colourful and provocative canvases that were a vibrant mix of Indian folk art and western modernism. Here, in a never-before-published excerpt from one of his final interviews with Serpentine Gallery co-director Hans Ulrich Obrist (soon to be the basis of a book, edited by Robert Violette), he talks about what propelled him to become a painter, the Indian struggle for freedom, and unexpectedly finding himself in Parliament.
Hans Ulrich Obrist: I want to ask about your beginnings in art because I have read in many interviews that it all started with some evening classes. But did you have an epiphany at any stage? Was there a defining moment when you realised you must be an artist?
MF Husain: For almost twenty years, until I was in Bombay, I never exhibited my paintings. At that time I had no means, I was just struggling to survive. I won a gold medal in Indore but nobody recognised me as a painter, so I had to paint sign boards and bill boards. But I continued painting - I just never showed my work. I myself couldn't understand why I was not showing it. I had so many friends who used to take their paintings to the Bombay Art Society. I used to go and see the exhibitions, but I never exhibited.
Only when India got freedom, on the night of August 15th 1947, did my attitude change. That night I was roaming the streets of Bombay and the whole celebration triggered my imagination. At the time I was working in a toy shop, designing furniture and toys for children. That night I decided I should give up. I should also become free and I should enter the art world. I told my wife. I had two children and no bank balance. I said to her: 'This is my life. I can't go on like this.' I was only forty. I didn't know whether I would succeed because there was some interest but I never met the people showing it. I knew the artists were there and saw their exhibitions but I never went to meet them. I was very shy at that time and I couldn't even speak one sentence of English. My education was in Persian and the classical languages. I studied it but I had no practice because I lived where I did. So in 1947 I sent some paintings to an annual exhibition of the Bombay Art Society. The founding member of the Progressive Artists Group, Souza, noticed the three paintings I submitted and said, 'Who is this painter?'
Hans Ulrich Obrist: The painter Francis Newton Souza?
MF Husain: Souza discovered me. He looked for me and came to my house and said, 'We want to invite you to become a member'. And that's how I became part of the Progressive Artists Group in 1947.
Hans Ulrich Obrist: It is extraordinary and beautiful that the two coincide; that at the same moment India was free, you felt free enough to be a painter.
MF Husain: I was involved in the whole freedom struggle, though I never took an active part. I was very much there. I used to attend all the rallies and speeches of Gandhi and Nehru and all these people. I was very fond of listening to them, yet for some reason my family said you should be loyal to your country but never take an active part in politics. You should remain a nationalist. That was what we were taught at my boarding school in Baroda. It was a Muslim Madrassa but our uniform was Khadi because the patron was a staunch follower of Gandhi, and he was part of the very well known Indian Tyabji family. They were all nationalist, so we were against Partition. I remember my wife's elder brother opted to go to Pakistan and he had a good post there. I told my wife there should not be a line exchanged between her and her brother. She was to have nothing to do with the Partition. I was very strict. [Laughs]
Hans Ulrich Obrist: Did you meet Nehru or Gandhi at that time?
MF Husain: Not personally. After Independence, in the fifties, when I became known as a painter, then I had very close relations with Nehru. I painted him and Rajiv Gandhi. When Rajiv Gandhi became Prime Minister, he nominated me to the upper house of Parliament.
Hans Ulrich Obrist: You were in Parliament?
MF Husain: For six years. But there again, when you are nominated, there is a clause saying you must decide which party you belong to and I remember I wrote: 'I don't belong to any political party anywhere in the world. I believe in India.'
Hans Ulrich Obrist: So total independence?
MF Husain: I believe in the individual. I don't believe in any political party and, until today, I maintain that.
For the Indian Highway exhibition in 2008, the Serpentine Gallery gave over its entire exterior to an artist for the first time. MF Husain turned it into a giant story board depicting the history of India with a series of his large-scale paintings
Courtesy of the Serpentine Gallery
Receive our daily digest of inspiration, escapism and design stories from around the world direct to your inbox