Graphic design exhibition at the Walker Art Center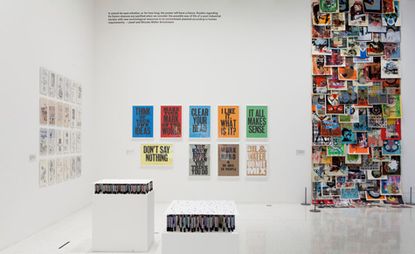 (Image credit: press)
Once the preserve of an elite cadre of trained professionals, the world of graphic design has changed beyond recognition over the past 30 years. The mass availability of digital technology has democratised the design process, leading to designers - both professional and amateur - broadening their role to become producers, publishers and curators. And production and printing techniques have also undergone radical change.
A new exhibition at the Walker Art Center (opens in new tab) in Minneapolis entitled 'Graphic Design: Now in Production' explores the seismic shifts in the realms of graphic design since the year 2000. Alongside posters and typography, is a selection of the world's most inventive magazines - including, of course, Wallpaper.
See more from the Graphic Design: Now in Production exhibition
The first rumblings of change in the graphic design world were felt back in the late 1980s and 1990s, when personal computing and desktop publishing allowed designers to do work previously carried out by specialist technicians. The role of the graphic designer continued to evolve throughout the 1990s. And since 2000, the rise of social media (opens in new tab) and internet distribution networks have had a further profound influence, allowing graphic designers to experiment with new forms of production and dissemination.
Covering 10,000 sq ft of space, the ambitious exhibition turns its attention to all the most important categories of communication design, including magazines, newspapers, books, posters, identity and branding, information graphics, typography, film and TV titles (think Mad Men (opens in new tab)).
Curated by Magculture.com's (opens in new tab) Jeremy Leslie, the magazine section is dedicated to the titles that reinvent the publishing genre and push printing techniques and production processes to their limits. Among the Wallpaper* issues included is W*155, guest edited by Zaha Hadid, featuring a limited edition gatefold, die-cut cover that dissected several pages of the issue. And there's our first Handmade issue, for which we tasked readers to design their own cover using our online Custom Covers application. Other titles showcased are outstanding works like Jop van Bennekom's Fantastic Man and Hannerie Visser's Afro magazine.
The exhibition's poster section includes work by Albert Exergian (opens in new tab) and Jurg Lehni (opens in new tab), while there are numerous interactive exhibits dispersed around the gallery, namely a 'Posterwall for the 21st Century (opens in new tab)' travelling installation by Dutch design collective Lust (opens in new tab), which constantly refreshes and displays information and images from the web.
Typeface too has undergone an explosion of creativity in recent years, spurred on by readily available typeface design software. This section singles out, among others, Process Type (opens in new tab)'s Anchor, Peter Bilak (opens in new tab)'s History and Lineto (opens in new tab)'s LL Brown.
It was the Walker Art Center, back in 1989, that presented what was then the most comprehensive survey of graphic design the US had ever seen. 'Graphic Design in America: A Visual Language History' was followed seven years later by a further foray into the subject with 'Mixing Messages: Graphic Design in Contemporary Culture', courtesy of New York's Cooper-Hewitt National Design Museum (opens in new tab). So it's fitting that the two organisations have teamed up to bring us this new show.
The exhibition is accompanied by a comprehensive catalogue containing 1,400 illustrations and essays by the curators. After Minneapolis, 'Graphic Design: Now in Production' will transfer to Governors Island (opens in new tab) in New York City next summer.
ADDRESS
The Walker Art Center
1750 Hennepin Avenue
Minneapolis
VIEW GOOGLE MAPS (opens in new tab)