Google's latest AI experiment reveals hidden colour connections in art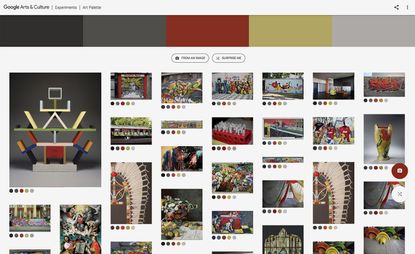 (Image credit: press)
Earlier this year, Google's Arts & Culture app ignited a viral storm with its 'art selfie' feature – social media feeds were awash with selfies of users and their fine art doppelgängers. More recently, Google announced a follow-up experiment: Art Palette (opens in new tab), which invites users to select a colour palette, and using a complex combination of computer vision algorithms matches artworks with their chosen hues.

The premise is simple enough – the results, addictively less so. The feature reveals how Van Gogh's Irises shares a hidden connection of colour with a 16th-century Iranian folio and Monet's water lilies, or that Ettore Sottsass' 'Carlton' room divider has more in common with Bartolomeo Passarotti's 1580 painting The Coronation of the Virgin than you might realise. More fun still, users can upload an image of their own – from home décor to fashion – and make visual connections to their immediate surroundings (even Sir Paul Smith's given Art Palette a whirl).
In addition to Art Palette, the Paris-based Arts & Culture lab revealed two further experiments as part of its ongoing reseach into how AI can be used to enhance culture. LIFE Tags uses Google's Image Content-based Annotation (ICA) algorithm to scan, analyse and tag over 4 million unpublished photos from the magazine's archives, from the A-line dress to the zeppelin.

The technology giant also collaborated with the Museum of Modern Art (MoMA) to create an art-recognising programme that used an algorithm to comb through over 30,000 exhibition photos, looking for matches with the more than 65,000 works in the New York institution's online collection. Over 20,000 artworks were eventually matched (opens in new tab), which the museum has used to create 'a vast network of new links between our exhibition history and online collection'.
Google unveiled its first set of AI-aided cultural experiments in 2016. Since then it has collaborated with institutions and artists, including stage designer Es Devlin, who created an installation for the Serpentine Galleries in London that used machine learning to generate poetry.

It's no secret we love a Google art remix at Wallpaper*. Last year we teamed up with photographer Brigitte Niedermair and designer Martino Gamper to celebrate textile brand Dedar's 40th anniversary. The creative duo used Google's Dominant Colour Lazy Loading – an algorithm that creates a series of placeholder boxes appear while the actual pictures finish loading in search – to render master artists' work in a new hue, eventually adapting them into decorative wall-hung panels.
INFORMATION
For more information, visit the Google Arts & Culture website (opens in new tab)