'God Machines' by Robert Longo, Paris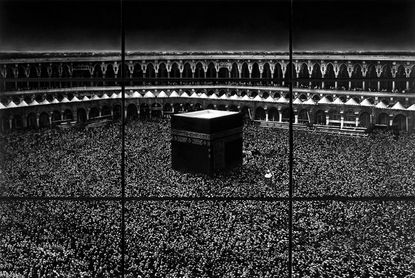 (Image credit: Robert Longo)
Galerie Thaddaeus Ropac marks its twentieth year at the vanguard of the Paris art scene this month with an apocalyptic-sounding solo show of work by Robert Longo, titled 'God Machines'. A long-time collaborator of the gallery, the American artist takes the typically intimate practice of drawing in charcoal and translates it into works on a monumental scale, this time covering almost all the walls of the main exhibition space with his epic depictions of places of religious worship.
These multi-panelled works have an assertive physical presence. Longo has always used graphite as if it were clay, whether capturing the writhing figures in his seminal 'Men in the Cities' series (1979) or the billowing clouds of the sky in 'Magellan (Plane)' (1996), and its his sculptural play with light and dark that gives the God Machines series its power. Though detailed, the scenes he captures - of the sacred spaces of three different religions, including Mecca in Saudi Arabia, St Peter's Basilica in Rome and the Wailing Wall in Jerusalem - are actually highly abstract on closer inspection.
Like with most of his oeuvre, the God Machines series mixes the personal with the politically charged. Also on show at Galerie Thaddaeus' Paris gallery are single-panel works of the themes and images that have captivated him in recent years - a disparate bunch, including burqa-clad women, waves, forests, tigers and rock concerts.
Longo, who also doubles as a musician (he played at the gallery's anniversary celebrations at the weekend) and has even directed a major motion picture (Johnny Mnemonic, staring Keanu Reeves and Takeshi Kitano, in 1995), is one of Galerie Thaddaeus Ropac's pivotal American artists. Back in 1991, his 'Faith in Zero Project' dissected the Paris gallery with a 3D rendering of the American Flag and in 1993 his 'Body Hammer, Cult of the Gun' held the gallery's Salzburg HQ hostage. So he's an apt choice of artist to mark this milestone in Thaddaeus Ropac's history.
ADDRESS
7 rue Debelleyme
75003 Paris