Ed Atkins selects his video-art favourites from Julia Stoschek's 750-strong collection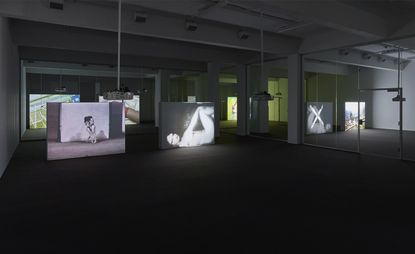 (Image credit: Simon Vogel)
What is ten years in the art world? Quite a while, as it turns out, when the genre is as young as time-based media (works that incorporate video, film, slide, audio or computer technologies).

The video art collector Julia Stoschek is also young, at least for someone of her standing. On 10 June she celebrated her 42nd birthday – and at the same time, the tenth anniversary of her eponymous collection in Düsseldorf. It's one of the most significant collections of its kind. For the first time, Stoschek will be putting the curatorial reins of a show – 'Generation Loss' – into the hands of an artist, Ed Atkins.

Stoschek has long been an Atkins fan. She devoted a retrospective to the artist five years ago, when he was just 30 years old, and she is the most prolific collector of his video art. 'Ed represents the generation of digital natives,' she says. 'Not to mention, he's an internationally significant artist's artist.'

Atkins selected 49 pieces from Stoschek's collection, which comprises around 750 works in all. All the videos will be shown in the same format. The large screens are uniformly aligned, so that several works can be viewed at one glance. They are presented in choreographed sequence, and mostly in pairs. In this way, Marina Abramović and Ulay meet Joan Jonas, Bruce Nauman runs in parallel to Klara Lidén, and Lutz Mommartz is shown next to 1`.
Sky News Live, by Ed Atkins and Simon Thompson, 2016. Photography: Simon Vogel
Stoschek is enthusiastic about Atkins' concept. 'He is giving an overview of the entire collection, creating a Gesamtkunstwerk in the process,' she says. She was even persuaded to gut two floors of her historical building for this – acoustic glass isolates the individual works aurally, without visual separation – in an undertaking 'comparable to constructing a new building'.

'The exhibition is based on a community of artists, works and ideas,' explains Atkins. 'The communitarian form places the pieces in an intimate relationship to each other. I have a chance to temporarily suspend the hegemony of the collection, asking the words to speak in a different way; in ways they do not necessarily presume to: reflexively.'

The exhibition's title, 'Generation Loss', refers to the depletion of quality that goes hand in hand with the copying or condensing of data, which is a result of evolving technologies. In curating the exhibition, Atkins found that the same reductive concept can be found in politics and culture, feelings and opinions – in short, in social change. He honed in on artistic inheritance, and the way artists enter into dialogue with their predecessors.

For artists represented in the Stoschek collection, this dialogue is very dynamic indeed. 'There is probably no art genre that has changed so significantly over the last decade as media art,' Stoschek concurs. 'From analogue VHS cassettes to digital film – that was a real quantum leap. To me, apart from Gutenberg printing press, digitalisation has kicked off the largest socio-cultural shift in history.' Accordingly, the layout of the exhibition is like a journey through time: from the beginnings of the moving image to the here and now, in which Stoschek can 'illustrate the entire timeline of the genre'.

And what does she think the next decade holds for video art? 'Formally speaking, I don't think we'll be looking at seismic changes ahead. But things are still going to stay very exciting. Soon, for example, there will be no such thing as tangible data carriers. And virtual reality, at the moment an entirely new genre, is set to evolve.'

But whatever is brewing in cyberspace – in the real world, for now, the exhibition will be showing for at least a year. 'Time-based art needs time,' is a dictum of the Stoschek Collection. And that is something Stoschek would also like to provide to 'Generation Loss'.
INFORMATION
'Generation Loss' is on view until 10 July 2018. For more information, visit the Julia Stoschek Collection website (opens in new tab)
ADDRESS

Julia Stoschek Collection
Schanzenstraße 54
40549 Düsseldorf
Germany
VIEW GOOGLE MAPS (opens in new tab)