Ahead of its first permanent home, Lafayette Anticipation presents a taster of things to come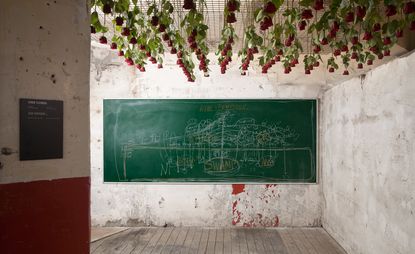 (Image credit: Isabelle Giovacchini)
'Can we join forces with the unknown?' This conceptual question was at the heart of a limited-run show of 14 artists selected by the curatorial team of the Galeries Lafayette's progressive new cultural institution, Lafayette Anticipation.

For Lafayette Anticipation, the answer is as much an ongoing mandate as an interpretative theme. Around this time next year, the new offshoot will unveil its first physical space: a production, innovation and exhibition hub occupying a late 19th century warehouse at 9 rue de Plâtre in the Marais. The ambitious architectural project is being developed by Rem Koolhaas' OMA, with the agency's AMO multidisciplinary arm contributing additional research and design.

The momentum-building exhibition 'Faisons de l'inconnu un allié' meanwhile, was on view a short distance away in the former Weber Métaux, a three-floor hardware store widely patronised by artists; its raw, open space (slightly modified to meet safety regulations) offering the ideal backdrop for the installations that, more often than not, convey a certain state of incompletion. While Lafayette Anticipation's managing director and exhibition curator François Quintin says the works do not directly relate to one another, several existed as work-in-progress performances.
There was Cally Spooner's music composition recorded in an on-site studio; a 2.5m circular flute constructed by Studio Brynjar and Veronika that benefited from a live recital; abstract leather handbags made daily by artisans supervised by Mary Ping of Slow and Steady Wins the Race; and a Genealogy structure housing a fragmented rug passed down from Rayyane Tabet's Bedouin great-grandfather, which came to life when recounted by the artist as an oral history.

'It's not only objects; it's the whole story of how we have developed the projects – and how it's linked to personal history,' Quintin tells Wallpaper*. 'When you produce an artwork, there is something that goes way beyond the contemplation of an object.'

Which is to say, Lafayette Anticipation is differentiating itself from other patronage foundations by emphasising the production process as much as the final product. Sure, it provided the financial support for Yngve Holen to purchase a Porsche Panamera, but then it also helped source the diamond cutter that could slice the car into four price parts, titled Cake. In this way, the notion of 'anticipation' applies universally to institution, artist and visitor. 'Anticipation is one of the most democratic words; anybody can anticipate – to think in advance and consider what the near future will be,' Quintin notes. 'Our role is also to anticipate the needs of the artists. And this offers a way to position them and explore this.'

While this may not be immediately discernible to the people who drifted from one work to the next – Simon Fujiwara's New Pompidou corner with its ceiling grid of upside roses, or the unnatural curves of Tyler Coburn's Ergonomic Futures bench – it made for an intriguing visit as uncertain as it was inspiring. And so as the official opening gets closer and closer, the anticipation builds.
INFORMATION
For more information, visit the Lafayette Anticipation website (opens in new tab)